This article is more than 1 year old
Chatbot lawyer shreds $2.5m in parking tickets
The power of automated persistence
An "automated lawyer" chatbot service has successfully challenged and overturned more than $2.5m in parking tickets in New York and London, according to its inventor.
The Do Not Pay service automatically generates an appeal if people fit the criteria to challenge a parking ticket – all using publicly available information – and it has been successful an extraordinary 64 per cent of the time, says London-born Stanford student Joshua Browder. In hard numbers, that's 160,000 times out of 250,000 seen.
Asked about the success rate, he told The Register: "It's not that high. Parking tickets are a multimillion dollar industry. I am just appealing a small fraction of it."
The service is free and leads people through a series of quick questions before firing off a missive to fine-collecting bureaucrats.
Not surprisingly, having an artificial intelligence (AI) bot do the legwork for you has been inviting, and some quarter of a million appeals have been lodged through it. Demand is such that Browder noted with some irony that his focus on it caused him to get his own parking ticket.
So focused on keeping DoNotPay from crashing that I just got my own parking ticket pic.twitter.com/JXsZkeTbFj

— Joshua Browder (@jbrowder1) June 28, 2016
Browder set the service up after receiving no fewer than 30 parking tickets while living in London. The appeal process, while not exactly consumer friendly, is very structured and so fits neatly with a simple AI bot. He then expanded it to New York and plans to do the same for Seattle this year.
In addition to the parking ticket challenge, Do Not Pay offers to help airline customers chase refunds for flights delayed more than four hours. Browder also sees a whole world of opportunity making it easier for people to deal with frustrating processes.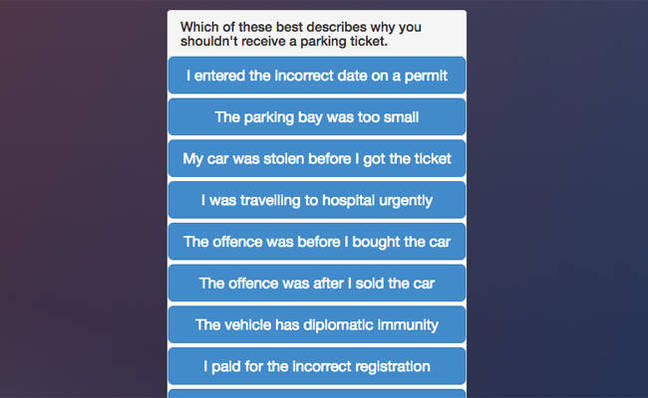 Sample page of the chatbot walking people through the process to challenge a New York City parking ticket
Future projects planned by Browder are a little more complex, including helping Syrian refugees apply for asylum in Europe (in large part by translating Arabic to English), and digging into tenant-landlord disputes.
"The value in bots is not to order pizzas," he noted. "The possibilities are endless." ®