This article is more than 1 year old
Undergrads build 12.6-TFLOPS cluster out of four nodes, 112 cores
New student LINPACK record step
HPC Blog The ISC (International Supercomputing Conference) Student Cluster Competition once again cements its reputation as the place where LINPACK records go to fall. Last week we saw not one, but two teams top the current 12.03 TFLOPS record that was established at the ASC'16 spring competition.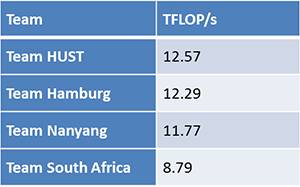 Team HUST, from the Huazhong University of Science and Technology, set the new high-water mark with their HPL score of 12.57 TFLOPS. The team was running a four-node, 112-core cluster with eight Nvidia K80 accelerators. This award is icing on the cake for Team HUST, coming on the heels of their ASC'16 win last spring.
In what many may seen as a surprise, home team Hamburg nailed down a very close second place finish with 12.29 TFLOPS – just a few FLOPS behind the winner. They achieved this with their two-node, 56-core, eight-K80 configuration – complete with a custom wooden rack.
Team Nanyang, with their three-node, 72-core, 6-K80 GPU, notched a third place finish. South Africa, with their larger 8-node cluster, grabbed an honorable mention in fourth place.
Putting this into historical context, we see a near linear progression of high scores starting at SC'13.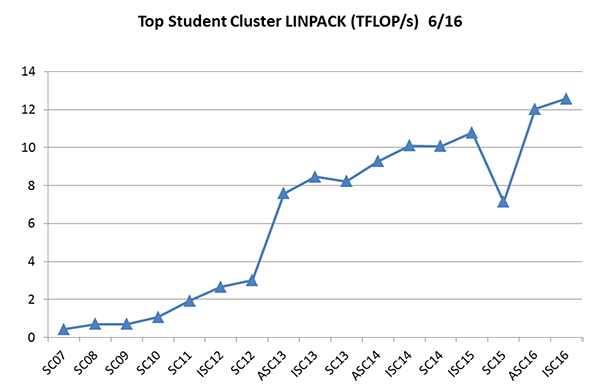 The big aberration was at SC'15, when none of the teams were using GPUs and the top HPL score tumbled back below the ASC'13 record.
In our next report, we're going to take a closer look at the mystery apps this year, and then, the final results. Stay tuned. ®