No means no: Windows 10 nagware's red X will stop update – Microsoft
Clicking on pop-up's close icon will postpone upgrade, Redmond exec promises
Microsoft will change the controversial way it has been force-feeding people Windows 10 upgrades.
The Redmond spreadsheet maker said that when someone clicks on the red "X" to close its infamous your-Windows-10-upgrade-is-ready pop-up, they will actually hold off the installation rather than accept it.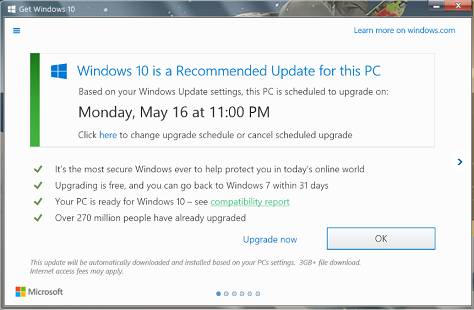 One-way dialog ... The pop-up box where 'X' means 'Go for it'
Windows 7 and 8.1 users complained last month after they noticed that when they dismissed the upgrade prompt by closing the box via the red cross, they would get the Windows 10 update anyway. This was branded a dirty trick by those who preferred not to install the free OS upgrade.
Microsoft defended the policy, saying that the default setting was to accept the update and users who had closed the box were agreeing to get Windows 10 activated on their PCs.
Now, however, Microsoft has changed its mind and, according to Windows and Devices Group executive VP Terry Myerson, will not consider closing the dialogue box as confirmation that users want to get the new version of its OS right away.
"The new experience has clearer options to upgrade now, choose a time, or decline the free offer," Myerson said in a statement to The Register.
"If the red-X is selected on this new dialog, it will dismiss the dialog box and we will notify the device again in a few days."
We understand a software update for Windows 7 and 8.1 will fix the upgrade's pop-up box.
Windows 10 has gained notoriety for the sneaking ways it installs itself on PCs. In the last year, Microsoft has taken heat for rolling Windows 10 installers into Windows security patches and aggressively pushing the free updater at particularly inconvenient times. The free upgrade will be withdrawn on July 29.
Earlier this month, a California woman was awarded $10,000 in small claims court after she sued Microsoft for a failed Windows 10 update that crashed her PC. ®