Oracle's Sparc S7 processor codenamed Sonoma will not feature on-chip InfiniBand interfaces as expected.
The CPU, designed for scale-out systems and revealed in detail by The Register in August, was due to sport an integrated InfiniBand controller capable of shoveling 28GBit/s directly between the processor and other nodes and networked storage.
These builtin InfiniBand interfaces are present on the S7's silicon die but are not exposed outside the chip package and thus cannot be used. And that's because Oracle diverted engineering time away from completing Sonoma's support for the networking standard.
Although the database giant favors InfiniBand due to its lower latency for clustered systems, customers buying S7-powered hardware are most likely using high-speed Ethernet for networking, we're told. Therefore, verifying that Sonoma's InfiniBand controller works with all the various InfiniBand adapters on the market was deemed a distraction.
"It's not connected out of the chip at the moment," Marshall Choy, Oracle's vice-president of product management, told The Register, adding that certifying the S7's integrated InfiniBand adapter was a "resource intensive" exercise.
"If you place a big order, we'll reprioritize it for you," he added.
Sparc S7-based machines can be fitted with InfiniBand and Ethernet adapters as necessary; it's just that InfiniBand won't be piped directly in and out of the CPU package.
Oracle will tomorrow tear the wraps off the Sparc S7, previously known as Project Sonoma, in a global webcast; OpenWorld Latin America conference attendees in São Paulo, Brazil, will today get a sneak peek ahead of the big reveal.
The S7 is an eight-core 4th-generation 64-bit Sparc processor running at 4.27GHz and fabricated using a 20nm process. It has a integrated PCIe controller, and can handle up to 1TB of DDR4 RAM when using 128GB DIMMs. It's the 32-core Sparc M7's cheaper sister and the successor to the Sparc T5. The S7 is said to have more per-core memory bandwidth than the M7 and the same per-core cache capacity as the M7: a shared 8MB L3 cache and 256KB L2 instruction cache per four core block, and a shared 256KB data cache per core pair.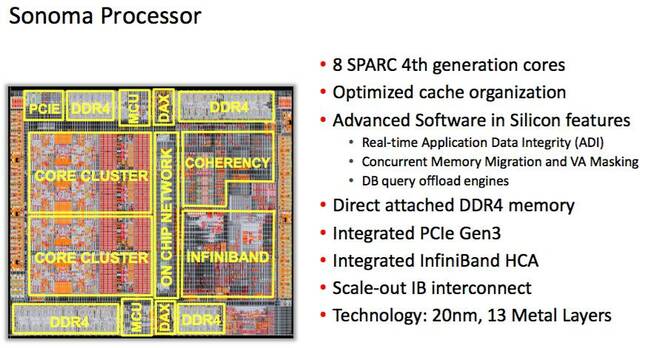 InfiniBand aside, the S7 has a couple of other cards up its sleeve: it has acceleration engines for cryptography and database analytics.
The crypto engine can be used by software to offload AES, RSA, DH, DSA, ECC, SHA-256, SHA-385, SHA-512 and other algorithms to dedicated builtin hardware to encrypt and decrypt data at high speed. Meanwhile, the analytics engine accelerates certain read-only SQL queries in hardware. These features are present in the Sparc M7 and are detailed here.
The S7 will also sport the M7's Silicon Secured Memory feature which uses the most-significant bits of memory addresses and pointers to "color" blocks of RAM. If a pointer's four-bit color doesn't match the four-bit color of the allocation it's referring to then something's gone wrong – either a bug has cropped up or it's an attempt by a miscreant to hijack the running thread – and execution can be stopped immediately.
These features are accessible only if you're running Solaris, Oracle's closed-source flavor of Unix.
Choy said the S7's crypto acceleration allows the processor to encrypt network traffic with only a two per cent performance hit compared to running plain-text packets. It's hoped the benefits of the cryptography and analytics engines will lure IT buyers away from the usual combination of Intel x86 and GNU/Linux to Sparc S7 and Solaris for scale-out workloads.
(No one was ever fired for buying x86. It massively dominates the world's data centers, and moving the needle on that market share will be a huge challenge for Oracle.)
The Sparc S7 will be used in new two-socket 1U and 2U rack-mount servers due to be unveiled by Oracle this week: the 1U systems will be aimed at high-density compute tasks, and the 2U boxes will carry extra disks. We predicted that Sonoma would mostly end up in Oracle's own public cloud; now it appears the intention is to tempt organizations into building Sparc-Solaris on-premises or hybrid clouds using the kit (or use Oracle's public cloud, where the S7 will be deployed).
Oracle will also reveal Sparc S7-powered "mini clusters" that are aimed at remote offices and development and test environments, and can be secured and controlled through a web-based user interface. The idea is that IT bods with no Unix experience can still fire up one of these machines, configure it and run apps on it, all through a browser.
More details will emerge on Thursday. As always, Big Red wants to own the entire stack in your business – from the silicon to the operating system to the database and server middleware – and the Sparc S7 is another paving slab in that platform.
"We will continue to do Intel-based systems and engineered systems going forward," Choy told us. "We're providing choice and flexibility: we want our customers to run Oracle and third-party software and their own software on our hardware, whether it's Sparc or x86." ®