Loop Dreams: Top college talents showcase their skills … in cabling
Remember these names, they'll be running copper in the big leagues soon
---
Students from around the US gathered recently in Louisville, Kentucky to take part in a series of contests based on installing, maintaining, and troubleshooting lines for telco networks.
The SkillsUSA Telecommunications Cabling Championship brought high school and university students together to compete in events including 25-pair cable installation, copper and fiber cable construction, cable terminating, and troubleshooting/support for cable lines.
Winners took home gold, silver, and bronze medals, as well as additional prizes (such as tools) from contest sponsors.
The event served to highlight the specialized training programs that secondary schools and colleges are offering students who will go on to become cable and telco service technicians and managers.
The people to fill those jobs have been in high demand at US telcos, as evidenced by the scrambling at Verizon when thousands of its technicians went on strike. They would later bag a 10.9 per cent pay rise by agreeing to a new labor contract.
The event was part of the larger SkillsUSA Championships for students with trade skills with the aim of drawing student interest in trade occupations. Other areas of the contest include computer-aided design, culinary arts, and machining.
Sponsoring the contest was the Electronic Technicians Association (ETA) International, which said that the Cabling Championship events would showcase many of the skills and requirements that make up its Data Cabling Installer and Customer Service Specialist certifications.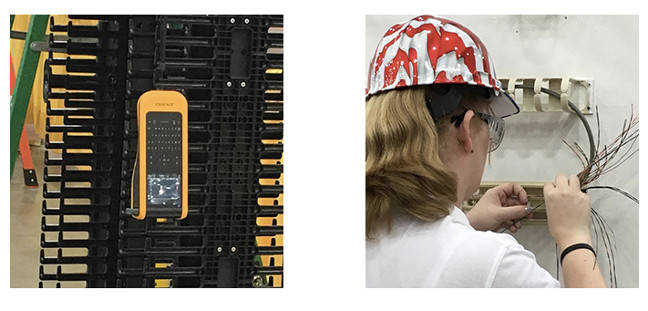 Will your favorite network provider land one of these top prospects?
Other backers of the event include Cisco, Corning Optical Communications, and the Communications Workers of America.
The winners in the High School division were Nicholas Stemen of Waver Academy in Greensboro, North Carolina, Bryan Urias from Orange Technical Education Centers in Orlando, Florida, and Derek Faudree of Kiamichi Technology Center in Atoka, Oklahoma.
College division winners were Nakisha Carter from Indian Capital Technology Center, Muskogee, Oklahoma. Dustin Loya, from College of Western Idaho, Nampa, Idaho, and Ashley Smith of Ozarks Technical Community College in Springfield, Missouri. ®