Microsoft's Office 365 service appears to be suffering an outage in and around New York City and the US West Coast.
User reports from the area, as well as a map from monitoring service DownDetector, show knackered service in the New York and New Jersey areas, plus problems in California and spots of bother elsewhere.
Office 365 Down | Is Office 365 Email Not Working - https://t.co/gtWZ57kCf3

— Blueclone Networks (@itconsultantnj) June 30, 2016
[status] Investigating: Starting at 10:30am, our hosted Office 365 email delivery and sending is slow. We've s... https://t.co/rSrQyv9JmK

— CCI Help Desk (@CCIITHELPDESK) June 30, 2016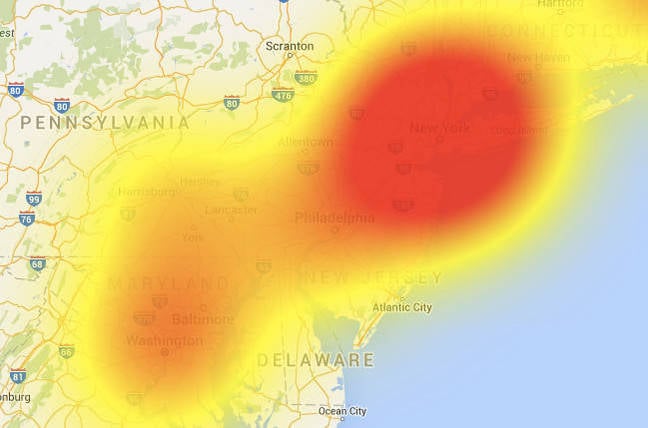 DownDetector's heat map as of noon Eastern time
Needless to say, a prolonged outage for the largest metro areas in the US would not be a good look for Microsoft and could lead to headaches throughout the business world for the remainder of the day.
How many outages have there been this year? Should Microsoft rename it to Office 363 or something? pic.twitter.com/ElTIUijENN

— The Register (@TheRegister) June 30, 2016
A Microsoft spokesperson told us: "Some customers may be experiencing delays sending and receiving emails and service is being restored." ®