Microsoft's Windows 10 nagware goes FULL SCREEN in final push
Meet the new BSoD – the Blue Screen of Despair
Pic As the Windows 10 free upgrade period draws to a close, Microsoft is stepping up its operating system's nagware to full-screen takeovers.
The Redmond software giant confirmed today it will start showing dark blue screens urging people to install the latest version of Windows. The full-screen ads will pop up on Windows 7 and 8.1 desktops from now until July 30, when the free upgrade period ends.
"This notification is a reminder that the Window 10 free upgrade offer ends on July 29, 2016. Microsoft recommends that you upgrade to Windows 10 before the offer expires," Microsoft said.
"You can choose to upgrade directly from the notification, dismiss the notification permanently, or choose to be reminded later."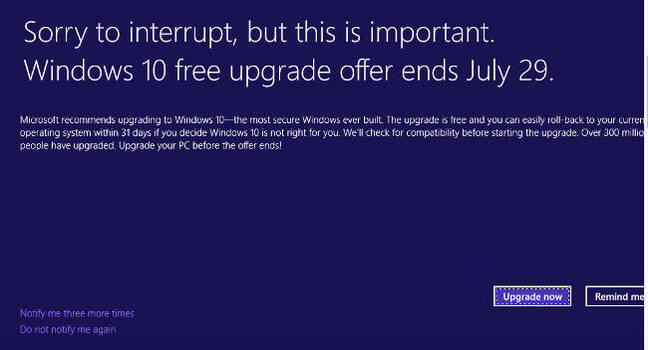 Remind me 3 more times, or file for a restraining order...
Windows 10 has its benefits but not everyone is willing to stomach the force-fed upgrade. This week a Reg hack found out the hard way that latest Microsoft OS had knackered his laptop's mic and webcam, preventing him from using Skype properly.
Microsoft says users who have selected the "do not notify me again" option or who have manually disabled notifications through registry key settings will not see the update, as will those who have previously uninstalled Windows 10, have had a failed installation, or don't have PCs that can support the new OS.
This comes as Microsoft has been widely criticized for forcing the Windows 10 upgrade on folks and popping up migration screens at wildly inappropriate times. It's hoped that after the free period is over, and you'll have to pay for Windows 10, Microsoft will dial down its efforts to cram its software onto people's machines. ®