Comment Some people think the main issue in the UK's decision to leave the European Union was sovereignty and self-determination. Others think it was migration. Others think it was class. But you're all wrong. The main issue in Brexit is Martha Lane Fox – and we have her word for it.
Into this Broken Brexited Britain strides the niece of the sixth Marquess of Anglesey to make everything better, as she explains in an essay titled Never Let A Good Crisis Go To Waste.
With Lane-Fox, whatever the problem may be, the answer is always the same: the internets.
"It's not only the commercial tech world that I feel could help us in this new landscape," she writes. "There's now more reason than ever before to use the Internet as a force for social cohesion and community building."
And who should lead this crusade? Well, modesty forbids Baroness Lane-Fox of Soho, CBE, spelling it out – but you can infer the answer without difficulty.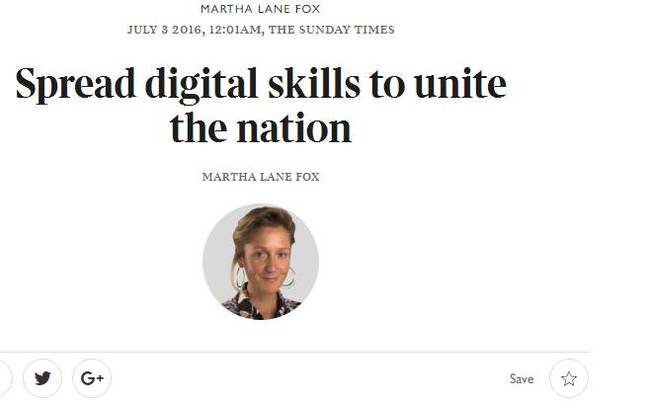 A brief history of the Baroness
In 2009 Lane Fox could be heard making exactly the same pitch, to rescue people on "horrible council estates" by showing them the magic of Facebook. If you weren't on the internets, she said the same year, you weren't a citizen. It was that important.
(That was when we demanded she be made a Life Peer – a request that came true two years ago)
The following year, she renewed her "crusade" in an eccentric "Foxifesto".
These poor, poor people. More internets!
Eventually Lane-Fox finally struck lucky, finding an incoming Conservative government keen to be seen to be modern. Digital was modern. Martha was digital, and therefore modern. This led to the creation of a chumocracy (of Martha's old friends) which in turn led to the Government Digital Service. Martha's Old Mates didn't have much experience in the private sector, and no experience of large projects, their careers having been spent in the more indulgent environment of the public sector-y space (BBC, The Guardian, Channel 4).
Nevertheless, the chumocracy set about their work: writing design manuals, removing websites that worked, creating a few new web services that didn't work, and an ID system that still isn't useful for anything. To get anything done, Whitehall has had to work around GDS. Its only functional legacy is as a social network sitting at the centre of government, and outposts in Australia and the USA. Like a plague of digital locusts, Martha's chums have moved on en masse to the Co-Op.
In a rare glimpse of self-awareness in her essay, Lane Fox says the Remain campaign needed fewer establishment figures representing the establishment… such as herself. "Clearly, the metropolitan elite like me banging on was at best irrelevant and at worst harmful," she writes.
But here's the funny thing.
The metropolitan elite just can't seem to let go of Martha.
Ex-digi boss may be a demand problem, not a supply problem
Last year, the BBC gave Baroness Lane-Fox of Soho a prestigious platform – an hour long Dimbleby Lecture – to plug her latest digital do-goodery, a new quango called Dot Everyone. Thanks to funding from the BBC itself, the quango set sail.
Indeed, TV and radio producers can rely on Baroness Lane-Fox to fill dead air at the drop of a hat – and they often do. We've yet to hear a conflict of interest disclaimer from the BBC when Martha appears.
It's almost as if the Establishment is so loath to address the real issues raised by people on "those horrible council estates" it's created a virtualisation container for the working class instead. Politics requires real empathy and engagement, and some of the solutions, such as producing a literate and indigenous workforce, take years of hard work. They can't be fixed by pushing a digital button. Instead of engaging with the disengaged, the bien pensant class think they create a digital inclusion initiative instead.
Having a "digital policy" is a massive diversion. It's yet another way do gooders can disguise self interest as virtue.
So the Establishment and Martha Lane Fox seem to need each other very much. I suppose they always will. ®