Micron made a loss of $215m in its latest quarter, job losses are coming, and the Seagate eSSD partnership hasn't taken off.
Its fiscal third 2016 quarter revenues were $2.9bn, compared to $3.85bn a year ago and $2.93bn a quarter ago, when it made a $97m loss. Things have gotten a whole lot worse since then on the price-mix front.
It plans to lower its staff count by about 2,400 jobs - about 7.5 per cent.
The damage was done by a fall in NAND sales, to around $900m, with trade units down 10 per cent compared to the second quarter and average selling price down 6 per cent. Memory (DRAM) sales grew. Micron's gross margin of 17 per cent was 3 per cent lower than the second quarter "primarily due to lower average selling prices partially offset by manufacturing cost reductions."
Micron CEO Mark Durcan's canned statement reads: "Although we have made good progress in deploying our advanced DRAM and NAND technologies, we continue to face challenging market conditions. To address the current market environment and strengthen our competitive position, we are implementing a number of initiatives to reduce costs, drive greater efficiencies, and increase focus on our strategic priorities."
A global workforce reduction is coming and thus, with other initiatives, is supposed to save the company $300m+ in its fiscal 2017.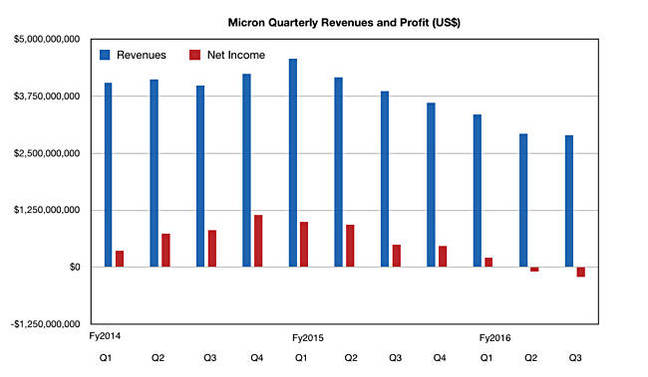 Micron Q3 fiscal 2016 results, with six quarters of declining revenue, and seven of falling profits moving into losses.
Stifel MD Aaron Rakers says Micron's reported NAND revenue was ~$900m, or 31 per cent of revenue; it was 37 per cent in the prior quarter, suggesting a 17 to 27 per cent annual decline. He points out SanDisk's revenue had increased by 2.5 per cent year-on-year in the March quarter.
According to Rakers, Micron's implied SSD revenue, 13 per cent of total revenue at $117M, declined by 50 per cent y-o-y and 33 per cent sequentially. "This compares to SanDisk + Western Digital's SSD revenue growing by 2 per cent y-o-y and -9 per cent sequentially during the March 2016 quarter." So Micron dealt poorly with market demand problems compared to WDC/SanDisk.
Micron encountered revenue effects in its fab conversion from 2D planar NAND to 3D NAND. Rakers says: "Micron noted that client SSD bits sold were down 20 sequentially as the company reduced planar output (and planar NAND-based SSDs) to shift more toward 3D NAND. … Micron expects its 2nd generation 3D NAND to commence volume shipments in C2Q17."
The 1st generation features 256Gbit MLC and 384Gbit TLC capability. Second generation capacities have not been revealed.
He notes that Micron enterprise SSD bit shipments declined 10 per cent sequentially in its third quarter, yet it has an enterprise SSD partnership with Seagate. Rakers writes: "This further confirms our view that the Seagate/Micron eSSD partnership has not materialised at all." ®