Microsoft: Enterprise Advantage will be 'a step in quite a long journey to modernize our licensing'
Enterprise Agreement killer to land in early 2017
---
Recognizing it has to do something about its tortuous licensing deals, Microsoft has come up with a new program: Enterprise Advantage.
Enterprise Advantage – not be confused with an Enterprise Agreement – will be available from early 2017 to companies with a Microsoft Products and Services Agreement (MPSA). It's aimed at outfits with 250 to 2,400 users or devices, is a three-year package, and lets you buy things organization-wide from Redmond.
Enterprise Advantage tries to offer everything that's in an Enterprise Agreement with extra stuff thrown in, such as the ability to mix together committed and transactional purchases on one contract, and order items whenever you need them at any time.
"It's a step in quite a long journey to modernize our licensing," Mark Nowlan, Microsoft's director of licensing marketing, told The Channel.
As we understand it, the situation in six months will be this:
If you have fewer than 250 users or devices, you'll be told to consider the Cloud Solution Provider (CSP) program or use something similar for small businesses.
If you have 250 to 499 users or devices, you'll be offered a CSP deal or an MPSA, possibly with Enterprise Advantage if appropriate.
If you have 500 to 2,400 users or devices, you'll be encouraged to get an MPSA with Enterprise Advantage. CSP is also still an option.
If you have more than 2,400 users or devices, an old Enterprise Agreement will still be the way to go. However, Microsoft intends to scale up MPSA and Enterprise Advantage so that they eventually take over from Enterprise Agreements for larger and larger businesses. Again, CSP is still an option.
Below is an illustration of how it will all fit together, at least initially, based on what Microsoft has told us – don't forget, the new Enterprise Advantage sits on top of the MPSA: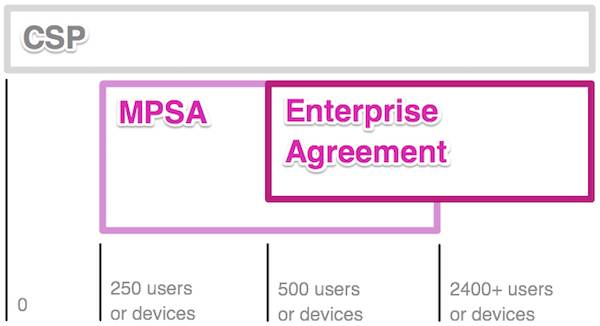 The light pink MPSA box is expected to extend out to the right into the dark pink's Enterprise Agreement space as Microsoft tries to shift more and more people from Enterprise Agreements to MPSA and Enterprise Advantage deals. We reported in January and February that Microsoft planned to gradually kill off Enterprise Agreements – this is how it's going to do it, by scaling MPSA and Enterprise Advantage to the right so larger and larger organizations can optimally use MPSA, forcing Enterprise Agreements to the grave.
Also as previously reported, rest in peace Select Plus: that's now retired for commercial customers and MPSA is offered as an alternative. We're told that you will not be allowed to make new purchases using Select Plus agreements with anniversaries that are after July 1. If you're still on Select Plus, you'll be shifted over to MPSA.
This gradual replacement of complicated Enterprise Agreements with Enterprise Advantage on top of MPSAs is supposed to help untangle Microsoft's web of rules and red-tape, and make it easier for people to buy Redmond's stuff without having to make a ritual sacrifice to the gods of bureaucracy.
Crucially, perhaps, the changes make it easier for Microsoft to sell things.
"Reducing the licensing complexity for customers makes it a lot less complex for us, too," said Nowlan.
"Our software licensing has been based on traditional software, not on cloud services. As we wanted to serve more customers and build more programs, we had to adapt our license agreements for the cloud and the number of options grew too much for anyone to manage well.
"It's a lot of overhead for customers and Microsoft. It makes much more sense for our customers if we have one unified licensing that lets them buy what they want, with one agreement and a 360-degree view of what they're buying from us."
There's a little more on the looming licensing deals here, by Microsoft's worldwide licensing boss Richard Smith. ®