Huawei is under fire after admitting a photo it supposedly took with one of its phones was actually snapped using an expensive digital camera.
The (since deleted) image was posted to Huawei's Google+ page and was presented as having been taken with the P9, an Android-equipped smartphone that carries a pair of on-board 12Mp Leica cameras. Huawei has made the high-grade camera hardware a key selling point of the P9.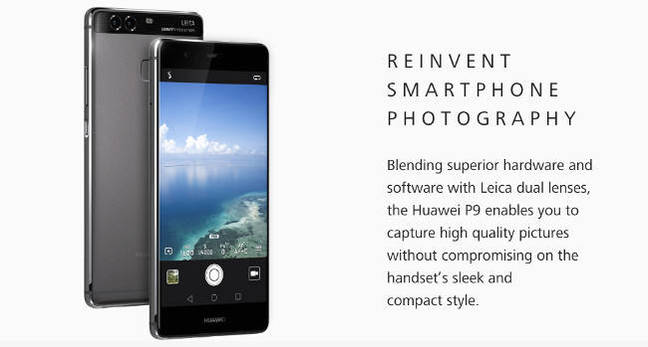 Huawei has made a big deal out of the cameras on the P9
It was soon found, however, that the photos had not been snapped with the P9's camera, but rather a more expensive digital camera. Android Police discovered that the EXIF data on the image showed it was taken with a Canon EOS 5D Mark III, which lists at $2,599 for the body unit (lenses will cost you even more).
When confronted, Huawei was quick to admit its mistake, though the Chinese hardware giant stopped short of admitting it was trying to mislead consumers.
"It has recently been highlighted that an image posted to our social channels was not shot on the Huawei P9. The photo, which was professionally taken while filming a Huawei P9 advert, was shared to inspire our community," a spokesperson told El Reg.
"We recognize though that we should have been clearer with the captions for this image. It was never our intention to mislead. We apologize for this and we have removed the image."
In the grand scheme of things, the photo fakery is not exactly a scandal on the level of Apple's "Antennagate" or the combusting Sony batteries – for one thing, who still looks at Google+? However, it is a particularly embarrassing stunt given how much work has gone into selling the camera hardware on the P9 model. ®
Sponsored: Webcast: Simplify data protection on AWS