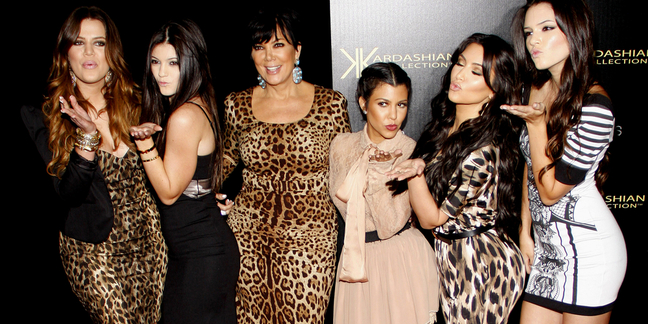 A sociology student has scored a first class degree in sociology, in large part because of her mighty 10,000-word thesis on American reality TV "star" family the Kardashians.
And if 10,000 words is enough to score you a Bachelors these days, there must be reams of show-biz journalists out there who just qualified for PhDs.
Eliza Cummings-Cove, a 20-year-old student from London, earned her First from Durham Uni after bravely subjecting herself to over 80 hours worth of the Kardashian klan's assorted televisual emissions, at one point having to watch two series simultaneously while taking detailed notes.
The result of the mega reality binge was an in-depth sociologoical dissection of the Kim and Co phenomena within the context of sexual liberation, racial fetishisation, post-feminism, and of course, Kim Kardashian's backside. Though the latter is arguably as much an engineering issue as a sociological one.
The Mirror reports that while Summings-Cove embarked on her odyssey with the impression that "they are very liberated and empowered", she concluded that "the culture they exist in is still very much rooted in misogyny and inequality".
Overall, she concluded, the lifestyles portrayed in the programme had an overwhelmingly negative influence on women, and were in danger of setting back gender equality.
An earlier report on Cummings-Cove's dissertation noted that she argued "The postfeminist narrative they disseminate has potentially disastrous effects for gender equality on a huge scale, and so we have to ask whether the postfeminist fairy-tale is one we want to be telling our daughters."
"I used to watch it and be like 'Omg this is so great' and now I watch it while shouting, 'Crush the patriarchy!' It's not ideal."
Which we would argue is somewhat one-sided view. The proliferation of Kardashians has had a pretty corrosive effect on the male half of the global population too – certainly the Y chromosome-bearing characters in the family rarely seem to be drawing much enjoyment out of life.
In the meantime, we're off to dust off our Weber and Bourdieu before settling down on the sofa, ordering a pizza and embarking on a critical analysis on the implications of Love Island for romantic archetypes and chest-waxing in the postmodern era. ®
Sponsored: Webcast: Simplify data protection on AWS