This article is more than 1 year old
OSNEXUS: Storage upstart that funded itself before gaining angel wings
IBM SoftLayer provides the magic carpet ride
Take one ambitious Citrix engineering director who wanted to start his own storage company, sprinkle in $2m of angel funding and seven years later you find a IBM SoftLayer-blessed 20-person startup competing with DataCore. Nexenta and $100m+ funding, and other VC-backed software-defined storage vendors. How did that happen?
Softly-spoken Steve Umbehocker started out as a software engineer in 1995 working on cross-platform Solaris and Windows apps. In May 1998 he became a technical director at Veritas and co-founded its storage system integration group, working on technologies used in Storage Foundation, NetBackup and Command Central Storage.
When Symantec bought Veritas in 2005 he stayed on, working on the development of the NetBackup Snapshot Client framework.
Finding Symantec becoming increasingly bureaucratic, he joined Citrix as its engineering director in October 2007, and was the architect and engineering director for StorageLink, a storage system provisioning and management framework for Hyper-V and XenServer. Two years later he left, to create his own startup, OSNEXUS, and storage software, QuantaStor, which uses a grid of commodity servers.
The Ubuntu-based software serves up Ceph, Gluster and ZFS storage (block, object and file storage) accessed over Fibre Channel, iSCSI, NFS, CIFS and S3 protocol links. It runs on a grid of x86 servers.
Other ex-Veritas people joined him as OSNEXUS progressed; VP Engineering Allan Petersen and worldwide Sales VP Dave Feldman, whom Steve met at Veritas.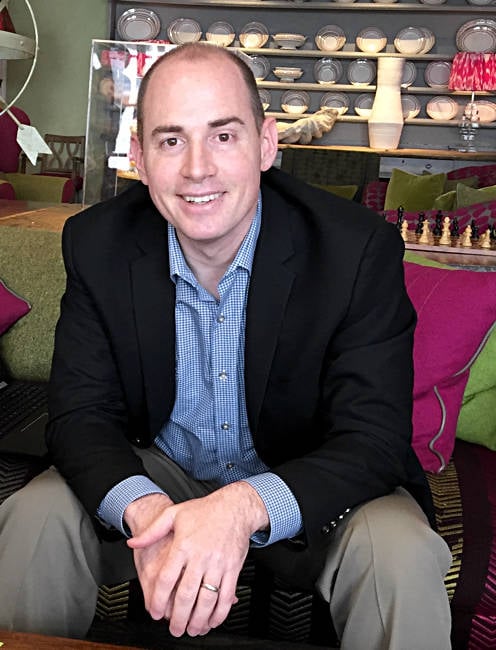 OSNexus CEO Steve Umbehocker
El Reg met Steve Umbehocker in London, together with his EMEA sales director, Anthony Yeates (ex-Panasas) and found out more about the firm's history. First of all it was self-funded, which must have led to interesting spousal discussions. There have been two angel rounds, putting in a grand total of $2m, with Fred van den Bosch being one of the angels, and the first software was sold in 2010, for $800. In fact it was sold to a geriatric hospital in the UK.
By general storage startup standards this is greatly under-funded. We might be tempted think there can't be much to its product, were it not for the SoftLayer connection. At the end of 2011 it closed a deal with SoftLayer to provide it with open software-defined storage on a SuperMicro platform which SoftLayer could provide to SMB users.
Umbehocker says SoftLayer looked at DataCore and Nexentsa software alternatives. Long story short, DataCore use required a Windows license and SoftLayer did not want its users to endure Patch Tuesdays. The Nexenta software was thought to be complex to manage with deployment needing many skills. QuantaStor passed both these hurdles and SoftLayer provides it to this day.
IBM bought SoftLayer for $2bn in June 2013, and now IBM is OSNEXUS' largest reseller. Oh bliss, oh frabjous joy for the lucky startup.
Umbehocker says it has grown revenues at 200 per cent year-on-year for the past three years, and has been heavily cash-flow positive since last year; it's not yet profitable, though.
There are between 500 and 1,000 paying deployments, with thousands of community edition downloads. OSNEXUS has a hardware compatibility list and partners with Cisco and HPE for the grid nodes. It's working on similar partnerships with Lenovo and SuperMicro. The agreement with SoftLayer isn't exclusive, and it has other channel partners who sell to on-premises and MSP buyers. A recent customer was a Scandinavian airline with a multi-petabyte deal.
Anthony Yeates joined at the beginning of the year and has signed up ten resellers in EMEA since then.
Umbehocker says QuantaStor is priced at Nexenta level, although it should be more. He says Nexenta resellers are welcome to contact OSNEXUS, and QuantaStor can import Nexenta storage with a few button clicks.
He recommends hyper-converged storage be viewed as okay for small environments but fails to deliver in large environments because the integrated storage takes away compute cycles from the applications. It's better to separate the storage from compute to get predictable performance and take advantage of the different technology refresh cycles. Things like ScaleIO suffer from high prices compared to QuantaStor.
What next? He's considering a funding round as the cash could be used to build out OSNEXUS' infrastructure, but our impression is that he sees no pressing need for it. The IBM/SoftLayer endorsement is helping with channel recruitment as well as customer numbers growth, and he's in charge of his own destiny without, we think, having VC board members breathing down his neck, and wanting a golden exit.
OSNEXUS is no Cohesity, Primary Data or Rubrik-class glam-rocker startup with lots of cash and a mission to disrupt the data centre. This is the little guy on the storage block that's just quietly gone ahead and built a reputable piece of storage software, which, as we can infer from the SoftLayer deal, is obviously good at what it does.
Check it and its multi-protocol scale-out storage appliances out here and try out the software here. ®