Behold the ROBOT RECTUM... medics' relief
Pucker up, it's for science
---
Rise of the machines: Spare a thought for the only Rectal Teaching Assistant in the UK who has lost his livelihood to a cold, metal bastard.
A bionic booty comprising prosthetic buttocks and anus with in-built robotic tech was developed by the white coats at Imperial College London to help doctors and nurses practise probing a posterior pit.
The device contains tiny robotic arms that apply pressure to the silicon rectum to simulate the natural feel of the back passage, preparing medics for future prostate gland examination - the trainer then inserts an index finger into a silicon thimble that is attached to robotic tech.
A computer screen behind the robo butt displays a 3D model of the rectum and prostate - if 3D glasses are used. And the tech can be programmed for different scenarios to allow the anatomy to be changed as the size and shape of the rectum and prostate can differ wildly.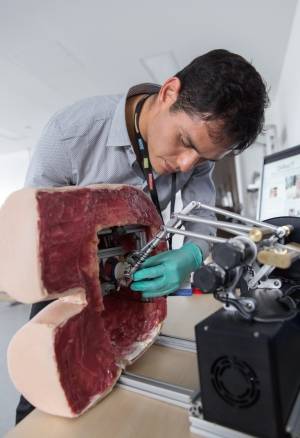 Photo credit: Imperial College London
"Internal examinations are really challenging to learn - and to teach," said Dr Fernando Bello, who works at the Department of Surgery and Cancer at the Imperial College London.
He said that as explorations "occur in the body", the trainer in unable to see what the trainee is doing and vice versa. And medics rarely get the chance to do their sweet work as few patients volunteer to be probed.
"In fact there is only one person registered in the country as a test subject, called a Rectal Teaching Assistant (RTA) in the UK," said Bello. So that's one human likely out of a job… just another seven billion odd to go before the machines take over the planet.
With funding from the Engineering and Physical Sciences Research Council, the team is working on an affordable prototype, though each unit is expected to cost up to £10,000.
The medics trialling the robo butt gave it a thumbs up. ®