Revenues grew 11 per cent year-over-year to $86.7m in Barracuda's first fiscal 2017 quarter, confirming its return to growth. Net income was $2.8m.
Recurring subscription revenue grew to $65.3m, up 20 per cent from $54.3m in the year-ago quarter and 75 per cent of total revenue. Appliance revenue though, was down, at $21.3m, compared with $23.7m a year ago.
Gross billings were $98.2m, compared with $94.3m a year ago. Active subscribers grew approximately 14 per cent to pass 286,000, and the dollar-based renewal rate was 93 per cent for the quarter.
President and CEO BJ Jenkins was upbeat: "We delivered strong results in the quarter and exceeded guidance on revenue, billings and earnings per share. We grew revenue 11 per cent year-over-year and more than doubled our non-GAAP earnings when compared with the first quarter of last year".
It's almost a home run, with last year's $3.8m loss turned into a $2.8m profit. With profits being 3.2 per cent of revenue there's probably scope for increasing them. Hopefully it can make a profit in the full fiscal 2017 year as well, something that's eluded it since its fiscal 2012.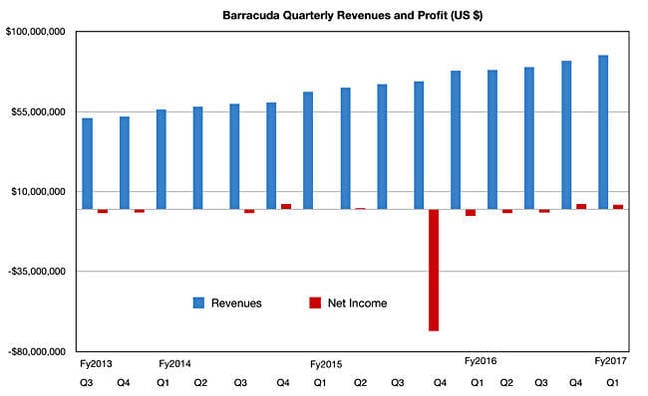 Barracuda quarterly revenue and net income history
May this year saw two execs recruited:
Hatem Naguib as SVP and GM of Barracuda's security business, coming from VMware
Ezra Hookano as VP Channels, coming from Exablox and Fusion-io before that
CFO David Faugno will leave on August 1, after 10 years in the role, with chief accounting officer and worldwide controller Dustin Driggs replacing him. There's nothing untoward here and Faugno will be an advisor during the transition.
BTIG Analyst Joel Fishbein said: "The beat was driven by strong performance in the subscription revenue line, which grew +20 per cent y/y (ahead of the Street's +16 per cent y/y)."
William Blair analyst Jason Ader said it was another solid quarter that came in above guidance and the consensus of Wall St estimates. He thinks this is "a clear sign of stabilisation in the business and that the company now has a better handle on its business and forecasting ability."
The beefed-up performance was "mainly driven by improved execution and new product traction and provides solid evidence that the company's repositioning toward embracing public cloud adoption and MSP trends is starting to bear fruit."
Barracuda is focusing on third-party cloud infrastructure and managed security service providers. It's launched products to protect customers migrating to Office 365 and Azure as well as Amazon Web Services (AWS). These target managed email security and managed next-generation firewall offerings.
Ader notes that "a significant portion of the legacy on-premise business will continue to face headwinds as the transition to Office 365 and public cloud providers accelerates." But "the legacy business grew one per cent year-over-year during the quarter, suggesting that the transition is not affecting the business significantly today."
Fishbein is optimistic about Barracuda's cloud business, saying AWS and Azure "relationships are unlocking incremental opportunities up-market, as Barracuda leverages Azure and AWS to penetrate the Fortune 1000. We believe the secular migration towards public/hybrid cloud environments will be a key driver of core billings growth longer-term."
Barracuda is now swimming in the cloud sea. Instead of selling appliances direct to its end user SMB customers, it's now selling cloud-delivered services to them, which they're staring to lap up. ®
Similar topics