Pic Cops at Stansted airport in Essex, UK, couldn't believe their eyes when a passenger turned up for a flight with what looked like a gun in his bag.
The unnamed pillock had chosen to protect his iPhone with a black case that sported a realistic-looking handgun built into the base. It's difficult to see the attraction of such a gadget, since it makes the phone a pain to use – but presumably it also makes the owner feel like a bit of a pwoppa gangsta.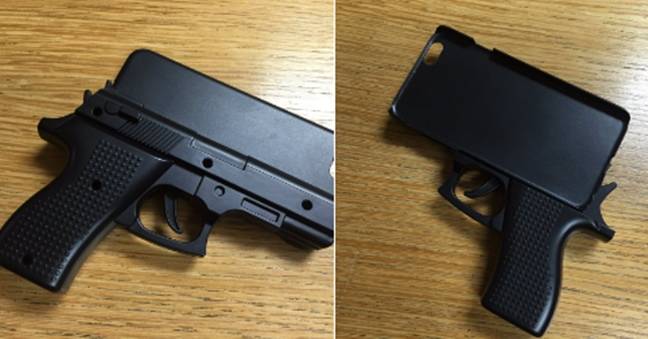 Head case ... The weapon-like iPhone case (Source: Essex Police)
Using this kind of kit in public may mark the owner out as a prat – carrying it into an airport and trying to get it onto a plane certainly seals the deal.
The Essex plod tweeted a photo of the device and asked how you, an armed officer at a busy airport, would react to seeing a gun poking out of someone's pocket. It's understood the snap below is a mockup for the internet – the real item was found during a normal security search.
You have a split second decision to make ... #WhatWouldYouDo #joblikenoother #AirportCops pic.twitter.com/qxiq7OxXjQ

— Essex Police STN (@EssexPoliceSTN) July 6, 2016
If the owner of the case was planning to come to America with his iPhone protector, he may want to think again. US police aren't as restrained as the UK's girls and boys in blue and tend more towards the Shooty McBangbang school of thought. ®