Peglar on the hoof: Micron flash and XPoint VP legs it
Exits loss-making company for pastures new
Eighteen months after joining Micron as VP of Advanced Storage Solutions, Rob Peglar has thrown in the towel and resigned to take up a post elsewhere.
He worked in Micron's storage business unit, headed up by Darren Thomas: the unit responsible for helping Micron flash HW components and software play a part in storage systems from the flash solid state drive and up the stack. This includes NAND drives and the forthcoming XPoint technology.
The company has just announced a second loss-making quarter, due to poor NAND sales and margin, and announced a coming restructuring initiative which will include job losses.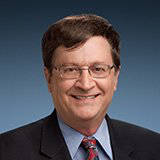 Rob Peglar
Peglar joined Micron after leaving a CTO Americas role at EMC's Isilon unit. Prior to that he was a senior fellow at Xiotech Corporation. He is a member of the SNIA's board of directors.
His last day at Micron is July 8 and he is going to work for a yet-to-be-revealed company, starting July 12. ®