This article is more than 1 year old
Bomb-disposal robot violently disposes of Dallas cop-killer gunman
Thanks, O bomber
Police in Dallas, Texas, used a bomb-carrying robot to blow up a cornered sniper who earlier shot 12 officers during a protest.
The suspected gunman was holed up in a building not far from where the shootings took place, we're told. Negotiators tried to persuade the ex-US Army reservist to surrender – but the talks broke down, and the trained killer started firing again. Equipped for war, he was wearing body armor and seen toting a semi-automatic assault rifle and a handgun.
Rather than lose more officers, police sent in their execution droid.
"We saw no other option other than [to] use our bomb robot to place a device on its extension for it to detonate where the suspect was," Dallas Police Chief David Brown said at a press conference on Friday.
"The suspect is deceased as a result of detonating the bomb. The reporting that the suspect killed himself is not accurate; we have confirmed that he is deceased as a result of the detonation of the bomb."
Such robots typically carry small explosives: the remote-control machines are wheeled over to devices suspected of being bombs and detonated to safely destroy the package once the surrounding area has been cleared. The US military has been using robots for these purposes for over a decade as have the Brits and other nations' armed forces. The German army built Goliath robots as anti-tank devices in World War II albeit with with limited success.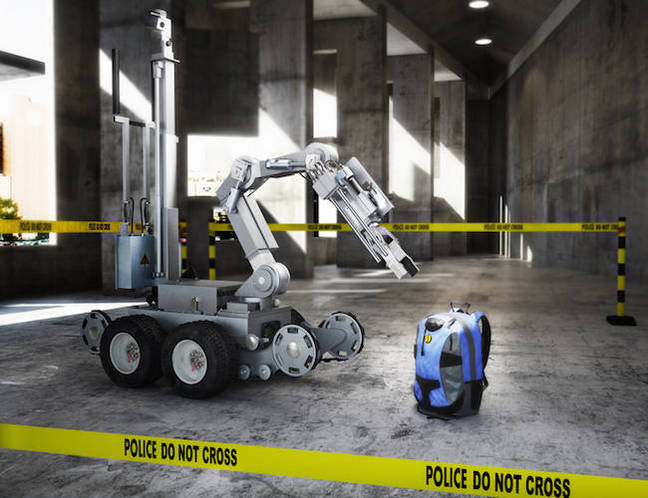 Hero tech ... A typical bomb disposal robot for those of you who can't imagine what one looks like
But the case is thought to be the first time a US police robot has been used in this way. It was a night of firsts in Dallas. Five police officers are dead and another seven are wounded after assassin Micah Xavier Johnson, 25, opened fire at the end of a peaceful rally in the city.
The protest was organized by Next Generation Action Network (NGAN) in response to Wednesday's double killings of suspects by police in Minnesota and Louisiana. The march was good-natured, with protesters taking selfies with smiling police officers, before a number of gunmen started firing at law enforcement officials.
"Next Generation Action Network expresses its condolences for the officers whose lives were lost following tonight's peaceful protest," the group said in a statement.
"NGAN ... [and] its President, Minister Dominique Alexander ... [do] not condone violence in any form. These cowardly acts were committed by individuals in no way affiliated [with] NGAN." ®