Backblaze hopes to melt Amazon Glacier customers' hearts
Offers three 'nines' SLA and 75% lower price
---
Backblaze has announced its B2 cloud object storage for $0.005/GB/month as an alternative to LTO tape drives.
Unlike Amazon's Glacier tape storage, its disk drive retrieval starts in seconds and takes minutes instead of hours and days, it claims.
The first 10GB is free each month and there is no data upload charge. Download is $0.05/GB with the first 1GB free. There are small transaction fees for accessing and downloading data, though.
Amazon's Glacier costs $0.007/GB/month
Backblaze B2 Cloud Storage says it offers remote data centre object storage for a quarter of the cost of Amazon S3 and Azure. Its closed beta involved 15,000 testers and another 15,000 joined in the subsequent open beta. There are just under 30,000 active users who have uploaded 125 million files, more than 525TB of data.
The use cases include archiving, backup and file/folder syncing, and drag and drop file sharing.
B2 is based on Backblaze's Vault architecture. Data is stored in Vaults (racks) Backblaze has designed, which use twenty 45-drive Storage Pods (disk enclosures with consumer HDDs inside and Linux ext4 file systems on the drives), 900 drives in all. It uses Reed-Solomon erasure coding for the data, which is spread across evenly across the 20 pods. All pods in a vault have the same number and capacity drives. Twenty drives are grouped into an entity called a tome. A file is stored in a tome and spread out across the drives within it.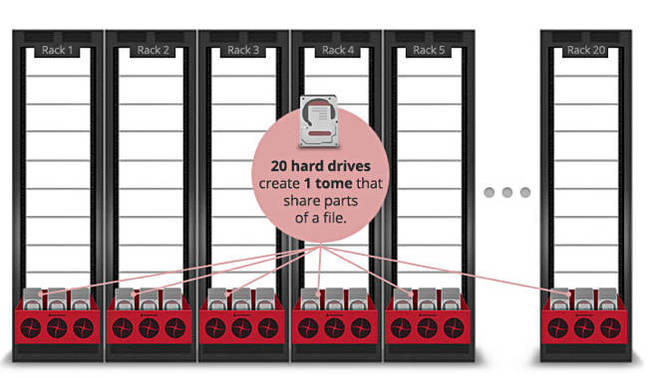 Uploaded files are divided into 17 segments called shards. Three parity shards are added for redundancy. A vault can recover from the loss of a storage pod and power loss to a cabinet. A file can lose three shards and be recovered from the remaining 17.
Vaults are designed for 8 "nines" annual durability – 99.999999 per cent. Backblaze says a vault can have 3 storage pods (135 hard drives) fail at once without any data being lost or becoming unavailable.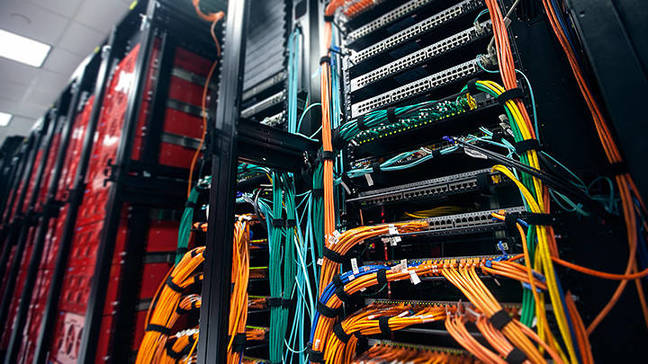 Backblaze Vault cabling
Vaults use 4TB drives currently, for a total of 3.6PB capacity, with 6TB ones being tested as well as smaller scale testing 8TB drives. It notes that 10TB drives have been announced by WD and Seagate, implying that Vaults could scale up from today's 3.6PB to 9PB. The software architecture supports 10,000 Vaults in one data centre and 1,000 locations.
B2 offers
SLA for 99.9 per cent uptime per month,
Maximum file upload size of 10TB, which it claims is 2X limit of other services,
Snapshot files up 10TB in size,
User can have B2 prepare a Snapshot file up to 3.5TB in size, encrypted, put on USB hard drive and FedEx'd to the user for $189.00 and get to keep the drive,
Four levels of business user support.
Backblaze has several availability partnerships for B2:
Synology users will be able to use the Cloud Sync feature in Synology release DSM 6.1 to sync files and folders on their Synology NAS device with Backblaze B2 Cloud Storage,
OpenIO automatically data as it moves through the storage classes (i.e. transactional, warm, cold, etc.) and it supports B2 as a data destination,
CloudBerry's cloud-based backup and file management supports B2 as a backup destination,
The Ortana Media Group's Cubix supports B2 as a media asset destination.
Comment
Backblaze B2 is a direct assault on Amazon's Glacier service, both from a pricing perspective and a retrieval time point of view, and also on tape drives. Obviously Amazon could respond by lowering its prices. Speeding retrieval is more difficult as, we understand, Glacier is based on tape drives, which are inherently slower than disk drives when starting retrievals.
Plucky Backblaze ought to be OK for a good few months, if not longer. But if Amazon detects that Glacier's business is being impacted by B2 then we can expect a price drop sledgehammer to fall.
There is a comprehensive Backblaze B2 blog here, and you can find B2 cloud storage prices here and AWS Glacier prices here. ®