What's the difference between the UK's Prime Minister-designate and a glamour model who appeared in the Prodigy's Smack My Bitch Up video? None at all, says Twitter.
Popular microblogging website Twitter was awash with tweets about Theresa May this afternoon, following the news that the Home Secretary will replace Prime Minister David Cameron after May's rival for the leadership of the Conservative Party, Andrea Leadsom, quit the leadership race earlier today.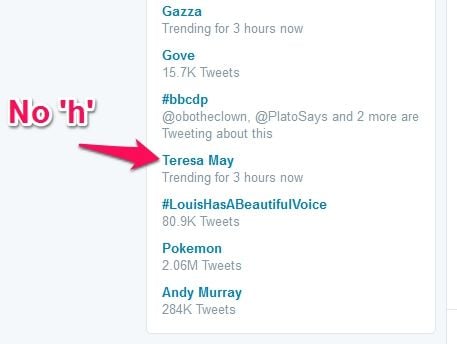 May – with an H – will ascend to the premiership unopposed, earlier leadership race candidates having been knocked out in earlier rounds of voting among Conservative MPs.
Cameron had indicated he would cling on as PM until October; by Wednesday this week, the UK will have a new Prime Minister: Theresa May.
Her victory, however, was overshadowed by Twitter's algorithms deciding to highlight a glamour model with a very similar name.
Step forward 49-year-old Teresa May, star of the Prodigy's Smack My Bitch Up music video (NSFW) – and, according to various shady websites, reasonably similar films, including Celebrity Shags 13, Dirty English Bitches Volume 3 and Teresa May's Punishment Party. Perhaps the latter title is what has confused a number of hopeful Tory members – not to mention Channel 4 News' Alex Thomson and a Fox News affiliate in America.
Undaunted, Teresa tweeted:
I find it quite amusing how many people think I'm #TheresaMay the Prime Minister. Just shows how ignorant some people are.

— Teresa May (@RealTeresaMay) 11 July 2016
But that wasn't all. Your intrepid reporter, in the interests of frontline political reporting, perused her profile and found another eye-opening post:
Busy sending out lots of worn panties and selfies

— Teresa May (@RealTeresaMay) 11 July 2016
Potential prime ministerial material? A rival for the leadership of the United Kingdom? What does Theresa have to say?
TM: "There is a gaping chasm between wealthy London and the rest of the country." #TM4PM

— Theresa May (@TheresaMay2016) 11 July 2016
Quite. Apparently there's a gaping chasm between Twitter, automated algorithms and reality, too. ®