This article is more than 1 year old
Falling PC tide strands Seagate's disk drive boats. Will WDC follow?
Thousands of layoffs announced as spinning rust enters its death spiral
Comment Seagate has announced its latest quarterly results will be unexpectedly good but there will be employee bloodshed. Another 6,500 layoffs on top of the 1,600 announced in June will take place.
WDC did say it was cutting 507 US staff in June but these are the tip of an expected iceberg, which will see thousands of positions eliminated.
There are two major disk drive market problems which impinge on manufacturing capacity; PCs and SSDs, with SSD (flash storage) affecting PCs as well as data centres.
The world's consumers and, to some extent, businesses, are buying fewer PCs and notebooks as smartphones and tablets become their computing choices, and these use flash storage (SSDs or flash cards). Within the PC market there is a transition to using SSDs instead of disks because disks are slow, and that further decreases demand for disks inside PCs and notebooks.
Data centres switched to using 2.5-inch disk drives from 3.5-inch disks, because disks are slow and more spindles meant more speed. But affordable SSDs solved the disk speed problem and are killing demand for high-performance disk drives. The 15,000 rpm market can see its own demise coming and the 10,000rpm disk market is going the same way.
Seagate has concluded that it has substantial excess disk drive manufacturing capacity and is taking steps to reduce it. There is a plan for consolidation of its global footprint across Asia, EMEA and the Americas, with the 8,100 job losses, an approximate 17 per cent cull of its workforce, being a consequence.
How can WDC escape this contagion? We don't believe it can.
Here is a chart showing the rise and fall of Seagate's shipped disk drives by quarter.

In three years disk demand has slumped from 55-60 million a quarter to less than 40 million. That's around 60 million fewer drives a year, and a 30 per cent fall.
We can compare this with the equivalent chart for WDC: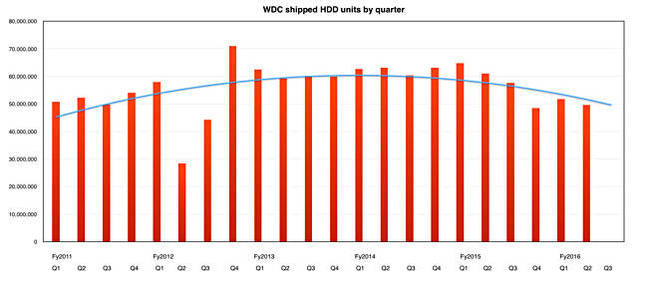 Although it's made a preliminary revenue announcement, WDC's latest quarter's ship numbers are still awaited.
It's been shipping at the 60 million drives a quarter mark for several quarters but the past four quarters have seen the number drop below 50 million and the trend is down. That's a 15 per cent drop, roughly, and we might conclude it's heading towards a 20 per cent fall and beyond.
WDC has ridden the change-over from data centres using lots of high-performance disk drives to using lots of higher-capacity drives; better than Seagate. It was an early mover in helium-filled drive technology, via subsidiary HGST, and has prepared much better for the surge in enterprise and consumer SSD usage by spending millions of dollars in acquisitions to get its own SSD products and have a vertically-integrated SSD manufacturing operation, a strategy that has not been replicated at Seagate.
However, the general pattern is the same. The world needs fewer disk drives than before, because PC and notebook demand is steadily falling, and performance disk drives are being replaced by SSDs, taking millions of fast 2.5-inch spindles out of the data centre.
No disk drive demand uplift looks likely. Demand for more disk storage can be met by increases in capacity instead of increases in disk drive units. Seen against these long-term changes, excess manufacturing capacity and jobs are a cost burden that needs to be eliminated.
El Reg expects WDC to announce it, too, is going to rationalise – reduce – its manufacturing capacity with consequent job losses in the thousands. If excess capacity at Seagate means 8,100 job losses then a 20 per cent reduction at WDC* could mean 5,000 or more. ®
Bootnote
*We have asked WDC for a comment and will follow up with its view.