Using Comcast biz phones? Hope you liked your afternoon off
Business service goes dark amid mystery outage
---
Comcast says it is still investigating the cause of outages that killed its business phone service in the US on Tuesday.
Reports of problems with the phone service began around midday, and the American telecom giant said that as of approximately 2:30pm Pacific time it was still trying to figure out why those on its small business phone plan were left unable to make or receive calls. Other services, including internet service and the enterprise business phone plan, have not been reported down.
A map by monitoring service Downdetector showed the outage to be nationwide, affecting most major population centers around the US.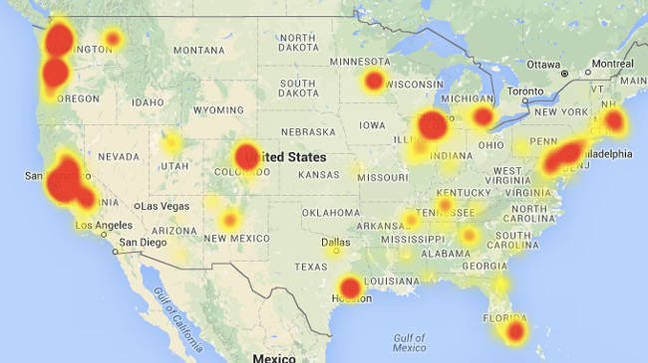 More red spots than your middle school yearbook
[Map via Downdetector]

"As of 5:37 EST outbound and inbound phone service for our Comcast Business customers is still impacted," Comcast said on its status page.
Needless to say, Comcast users were not thrilled by the forced downtime.
Kind of hard to do any phone-in interviews, or any type of radio program without any PHONE LINES. Nice Fail, @comcastcares @comcast #Waste

— Nick Tuckner (@tucksports) July 12, 2016
Switched to @Comcast from AT&T and we're dealing with the third phone outage in two months. Hard to run a business this way.

— Sike Mouther (@SikeMouther) July 12, 2016
Phone lines are down and can't get through to @comcast from any number! Our customers are getting upset.. What's going on?!? #Comcast

— Lissy Pena (@LiSsYYYY) July 12, 2016
A spokesperson for Comcast did not have much to add, other than to tell El Reg: "We're working as quickly as possible to understand the root cause and get it resolved."
The outage is the latest in a series of technical issues to plague US telcos this year. In February, Comcast internet service suffered a similar long-term outage, while telco bundler Frontier's customers went through weeks of headaches when Frontier unsuccessfully attempted to assimilate Verizon's FiOS network. ®