This article is more than 1 year old
Apple crumbles: Mac sales slump while Dell, HP Inc, Lenovo shift PCs
Maybe we're not holding these figures right?
Apple was the biggest loser in a Q2 that saw PC shipments down across the board.
Research house Gartner reports that on the year-ago quarter, global shipments fell by 5.2 per cent overall, though the North American market showed some signs of life with a modest 1.4 per cent gain.
Globally, Lenovo remained the single biggest seller of PCs. The Chinese giant shipped an estimated 13.2 million PCs during the quarter, good for a 20.5 per cent market share. Compared to last year's second quarter, shipments for Lenovo were down 2.2 per cent, but its market share grew from 19.9 per cent.
HP was second globally, with 12.3 million units shipped on the quarter, up 1.8 per cent with a 19.1 per cent market share. Dell also logged a gain, with its 9.8 million units representing a 3.1 per cent gain and its total market share sitting at 15.2 per cent.
Apple, meanwhile, had a disastrous quarter in which Gartner estimates Mac shipments of 4.6 million units were down 4.9 per cent over the 2015 quarter, leading to a 7.1 per cent market share that dropped Apple to fifth globally behind Asus.
In the US, Dell overtook HP for the top spot with 4.1 million PCs shipped, up 8.9 per cent on Q2 2015, and a 27 per cent share of the market, compared to HP's 4.0 million shipments, up 0.9 per cent and 26.3 per cent market share.
Lenovo was third in the US (2.2 million units shipped, up 9.2 per cent year-on-year), followed by Apple (1.9 million, down 9.3 per cent) and Asus (751,000, up 4.2 per cent). Out of these top brands, Apple was the only manufacturer to lose both at home in the US and away worldwide.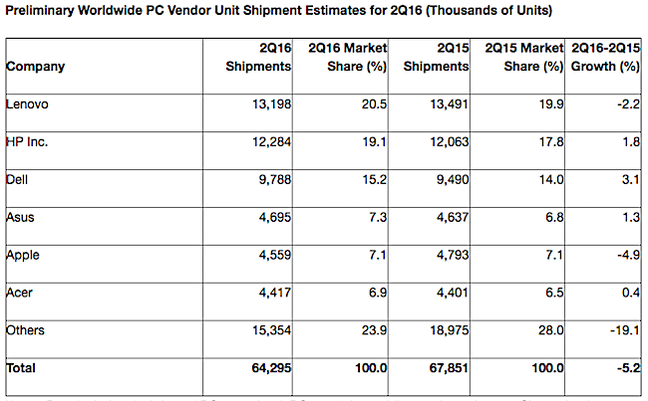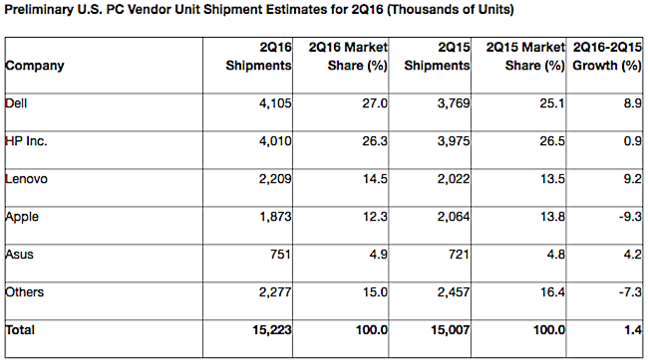 Source: Gartner
Gartner principal analyst Mikako Kitagawa believes that, in the US at least, momentum will continue to carry at least into the third quarter, with a possible boost from the long-awaited Windows 10 refresh cycle.
"The second and third quarter are typically PC buying season for the U.S. public sectors. Positive second-quarter results could suggest healthy PC sales activities among the public sectors," Kitagawa said. "There is an opportunity for a Windows 10 refresh among businesses, which we expect to see more toward the end of 2016 to the beginning of 2017."
Globally, however, things are going to be a bit murkier, particularly in South America and Europe, thanks to political and economic unrest.
Gartner believes that the fallout from the Brexit could hurt PC shipments within the UK in the coming quarter, as well as those in Continental Europe where the remainder of the EU is scrambling to figure out its next move. ®