Comment Google has returned some punches in the PR war over YouTube, claiming it has handed over $3bn in royalties from artists using its Content ID system, or $1bn since 2014. But Content ID is actually one of musicians' biggest beefs.
Google's implementation of Content ID, which "identifies user-uploaded [YouTube] videos to help rightsholders better control their content" is controversial because it leverages three of Google's market-dominating internet platforms. Google's dominant search engine drives music lovers to YouTube, Google's dominant video service, where the money is returned to artists from Google's dominant 'net advertising squad.
Musicians taking the YouTube route face a grim sequence of choices. They could shun YouTube and forgo the valuable exposure that comes with the platform. But once there, they then have an even grimmer decision to make.
Because YouTube enjoys a copyright loophole that Apple and Spotify can't use, Google can drive down the rates it pays. Fans are constantly uploading music, and YouTube is constantly transmitting the third-party uploads. In practice, this means the artist can either play a futile non-stop game of whackamole by submitting DMCA notices, or they can submit to Google's dominant advertising monopoly and sign a contract with Google's advertising business. Then, and only then, will Google turn on its filtering system, Content ID, and filter out the third party uploads.
Google claims that ContentID is effective, with "over 98 per cent of copyright issues [are] resolved via ContentID", and that the identification success rate is 99.5 per cent.
Google also defended its search results.
"Google does not want to include any links to infringing material in our search results, and we make significant efforts to prevent infringing webpages from appearing," it states.
Sure it doesn't.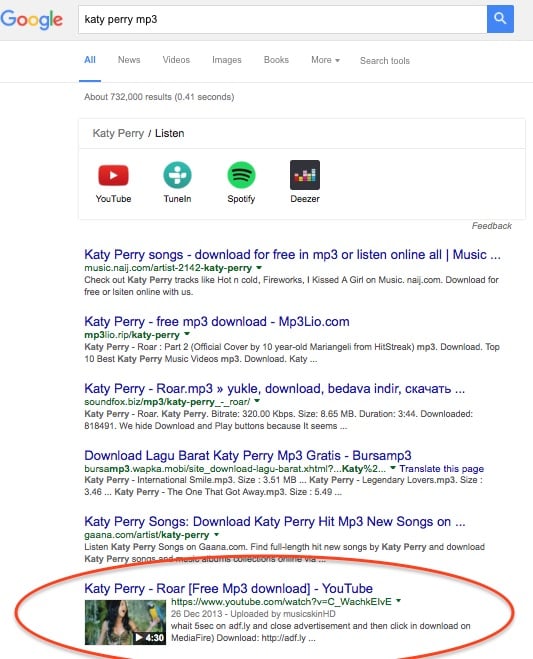 A search for "Katy Perry MP3" returned nine illegal sites in its first 10 organic search results, with YouTube in sixth spot - helpfully flagged by a picture. (People click on the link with the picture far more than the one without a picture.)
The BPI's Geoff Taylor said the idea behind Content ID is "great" - that content owners should only have to notify Google about a copyright breach once, and automated technology should make sure that content is either monetised or blocked from appearing illegally.
"But despite its amazing innovations in mapping the Earth and inventing driverless cars, Google hasn't managed to implement a Content ID system that people can't easily get around," says Taylor. "Of course the fact that Google refuses to remove YouTube videos that show you exactly how to circumvent Content ID doesn't help. Google should concentrate its formidable resources on making a Content ID system that is genuinely effective in protecting creators; and then apply a similar proactive system to Google search and its other services."
Logically, as Google slowly realises it operates a genuine music service (and it isn't too bad) in Google Play, its incentives will change, and it might work harder to stop directing traffic to unlicensed rivals, or tie its monopoly platforms together. Unless, that is, the real purpose of the YouTube operation were to drive down royalty rates for creators. ®
Similar topics