This article is more than 1 year old
Congrats, Linux users – you're finally officially alpha males... on Skype
Penguinistas offered olive branch by Microsoft in form of new client
Microsoft-owned Skype today released a new Linux client that hopes to address some of the complaints users have had with the chat app for months.
The VoIP giant says the new alpha build of the Skype-for-Linux software can make and receive Skype calls from people running the latest OS X and Windows Skype clients and the alpha Linux version.
That should help alleviate the complaints lodged earlier this year by loyal Linux users who accused Microsoft of neglecting Skype on their preferred OS.
The improvement of OS X and Windows calling will come at a cost, however. Aside from the usual stability and performance disclaimers that come with using the alpha version of any application, Microsoft cautions that the new Skype client will not be backwards compatible with the old Skype for Linux. This means that alpha users will no longer be able to call other Linux users who run Skype version 4.3.0.37 and earlier.
"As you may have guessed by the name, Skype for Linux Alpha is not a fully functioning Skype client as of yet," said Skype community manager Claudius Heinrichs.
"We're sharing it with you now as we want to get it in your hands as soon as possible, so we can continue to develop the new version together."
In addition to reenabling calls with Skype clients on other operating systems, the alpha build will introduce a new interface for Linux users.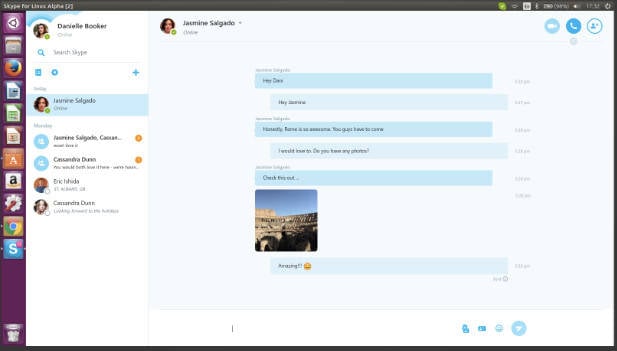 The new Linux UI
Heinrichs notes that the interface overhaul will include the addition of new emoticons, which should come in handy when you have to tell other Linux users you can't call them anymore.
Though Skype is encouraging Linux users to download and test out the new client for them, those who don't wish to use the alpha software build can also opt to make and receive voice calls over their browser, thanks to the addition of support for the Chrome browser.
Based on the Edge ORTC Skype, the Chrome plugin will allow users to make and receive Skype calls directly from their browser. It will also double as a Skype client for those on Chromebooks.
Video calls and calls to mobile/landline phones are not yet supported, though Heinrich said Skype plans to add both features in the near future. ®