This article is more than 1 year old
Did mock cop bot trot on fraught tot? Maybe not
Mall patrol droid maker hits back at claims its machine ran over a kid
The maker of the security guard robot that allegedly ran down a toddler in a Silicon Valley shopping mall last week has claimed its droid is innocent.
Sixteen-month-old Harwin Cheng hit the headlines worldwide after his parents claimed he was knocked down and run over by a 300lb Knightscope K5 bot at the Stanford Shopping Center in Palo Alto, California.
The tot's family said he suffered a scrape on his leg and swelling to his foot, but no other injury.
On Thursday, Mountain View-based Knightscope fired back, claiming sensor data collected from the guard bot does not match the account given by the family on the Bay Area's TV news.
The robotics biz reckons its records show it was not the robot that hit the child, but rather the boy ran into the K5 unit. Additionally, the company said it does not have any evidence of bot running over tot.
"The machine veered to the left to avoid the child, but the child ran backwards directly into the front quarter of the machine, at which point the machine stopped and the child fell on the ground," Knightscope said of the July 7 run-in.
"The machine's sensors registered no vibration alert and the machine motors did not fault as they would when encountering an obstacle. Once the guardians retrieved the child and the path was clear, the machine resumed patrolling."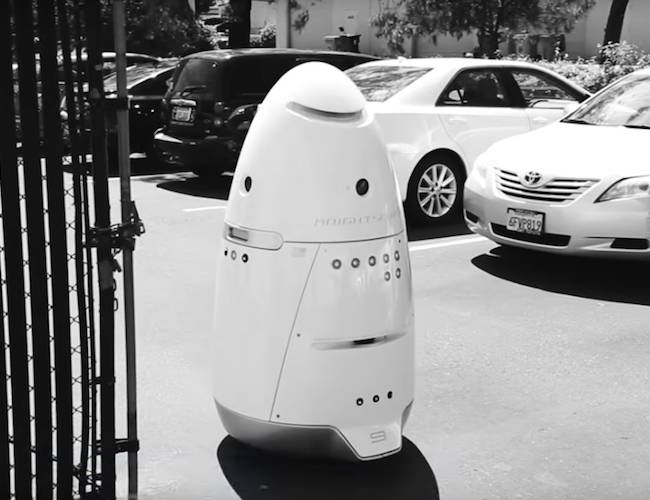 A Dalek's little brother ... the Knightscope's K5 (source)
A Knightscope spokesperson told The Register it has been in touch with family and, at their request, it will not be commenting further on the incident nor giving any interviews. The startup stands by its earlier statement, however, including its account that the robot stopped when the child ran into the machine.
"Our first thoughts are for the family and we are thankful there were no serious injuries," Knightscope CEO William Santana Li added. "Our primary mission is to serve the public's overall safety, and we take any circumstance that would compromise that mission very seriously." ®