Firefox will next month automatically block invisible Flash content that users cannot see when loading a page, says Mozilla as it continues its campaign against Adobe's plugin.
This should protect netizens from dodgy webpages that load hidden malicious Flash files that attempt to infect their computers with malware or perform similar devilish deeds.
It should also kill off unseen content that pointlessly drains devices' battery lives. The open-source browser maker will also automatically block advertisers' supercookie-like Flash scripts that snoop on surfers to make sure they are not blocking or ignoring ads.
This is ahead of a 2017 update that will see Firefox block all Flash content by default – meaning users will have to manually click on the Flash content to confirm that they want to view it.
Websites are urged to move from Flash to HTML5 for their multimedia content wherever possible. According to Mozilla, its browser has encountered fewer crashes since sites have started serving HTML5 media rather than Flash.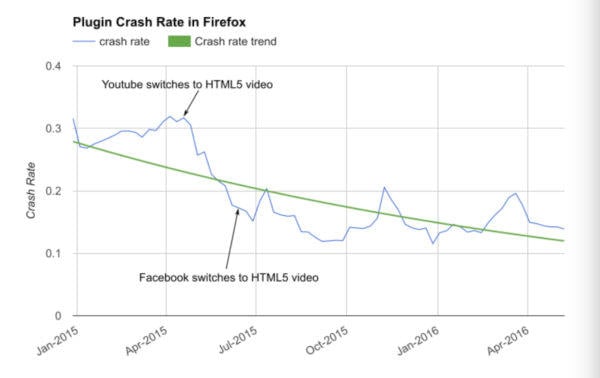 Mozilla says fewer plug-ins means fewer crashes
"Over the past few years, Firefox has implemented Web APIs to replace functionality that was formerly provided only by plugins. This includes audio/video playback and streaming capabilities, clipboard integration, fast 2D and 3D graphics, WebSocket networking, and microphone/camera access," wrote Firefox quality engineering manager Benjamin Smedberg.
"As websites have switched from Flash to other web technologies, the plugin crash rate in Firefox has dropped significantly."
Firefox is not alone in fleeing Flash. Citing the numerous stability and security problems that come with Adobe's browser plug-in, developers including Google and Apple have moved to marginalize Flash in hopes of eventually getting rid of the plug-in entirely.
Meanwhile, site operators including the BBC and the Google Adwords service have migrated from Flash to HTML5 for their multimedia content. ®
Similar topics