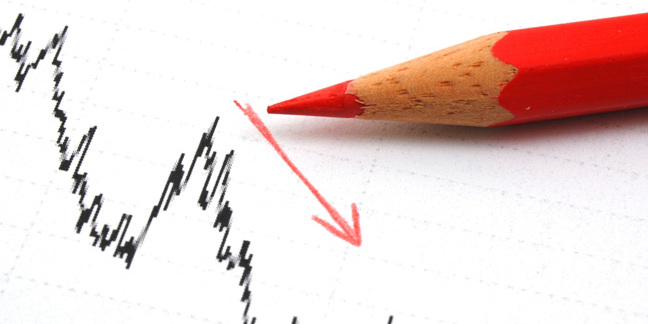 Restructuring at Logicalis that weighed heavy on the integrator's financials in recent times will be over and done with at some point before the, er, end of next February.
Datatec, the London-listed parent of Logicalis and networking and comms distie Weston, today issued a heads up for first quarter trading ended June - sales fell eleven per cent year-on-year to $1.97bn.
Gross margin at group level was up to 13.8 per cent versus 12.8 per cent in the prior year quarter, and this was something that CEO Jens Montanana cheered.
"The improvement," he said, "is encouraging in a period where revenues have been comparatively softer, as the much stronger US dollar continued to impact emerging markets".
Logicalis reported a sales slide of 5.6 per cent (flat in constant currency) and gross margin bounced to 22.8 per cent from 21.3 per cent. Sources told us the firm is trying to recover its position with key vendors Cisco and IBM.
Logicalis didn't specify the exact amounts, but said sales in Latin America were lower than a year ago due to currency and "market softness" in Brazil; they were down in North America, but increased in Asia Pacific due to the acquisition of consulting firm Thomas Duryea.
In Europe, Logicalis said Germany and Spain "continue to perform well" and "restructuring of the UK operations is expected to be completed during this financial year" that runs to 28 February 2017.
The company's departed European president Arnaud Spirlet, now running Cisco's Benelux ops, drafted an organisational restructure, and dumped a bunch of peripheral vendors last year. This happened after the UK arm lost its biggest single contract with the Welsh government.
Senior staff churn at the top of the business in Britain didn't exactly help - though Bob Swallow, the latest MD, was given the job in April, as we exclusively revealed, and has already lasted longer than his predecessor.
Swallow has since filled the vacant sales director and service director positions, and told us in April the business was starting to fire again - so we look forward to verifying this when this current full year's results are reported next May.
UK customers include John Lewis, Kerry Foods, Guardian News & Media Group, Admiral Insurance, Birmingham City Uni and Capita IB Solutions.
Over at Westcon, turnover slipped 13 per cent (down eleven per cent in constant currency), dampened by a strong comparable period for fiscal '16 as well as currency headwinds.
The Cisco franchise reported "lower Cisco sales" in the Comstor division's US government unit, weakness in Australia that offset a "solid" outing in Asia and lower spending in the Middle East and Africa.
The Business Process Outsourcing project work and additional ERP roll outs at Westcon are expected to result in cost savings and efficiency gains, the company said. ®
Sponsored: Practical tips for Office 365 tenant-to-tenant migration