Official: AMD now stands for Avoiding Miserable Death
Officially on El Reg, that is – Mini-chipzilla in the black after strong console chip sales
---
AMD fans are over the moon today as their favorite processor designer has sold more chips than expected in the three months to June 25.
The Sunnyvale, California, biz beat analysts' estimates on revenue and earnings per share in a billion-dollar quarter that ended in the black rather than the usual red: the Radeon maker banked a positive GAAP net income and non-GAAP operating profit thanks to strong sales of games consoles that use its chips.
AMD's share price is up more than seven per cent in after-hours trading to $5.60 at time of writing. That's agonizingly close to the magic six-buck mark for the troubled semiconductor giant that this time last year was struggling to look viable.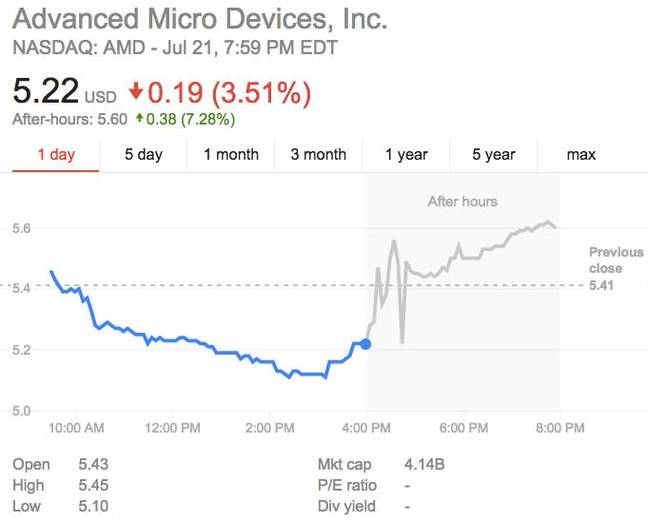 "In the second quarter we accomplished a significant milestone as we returned to non-GAAP operating profitability based on solid execution and strong demand for our semi-custom and graphics products," said AMD CEO Lisa Su.
Here's a summary of the company's Q2 fiscal 2016 financial results:
Revenue hit $1.027bn, up nine percent year-over-year "primarily due to higher sales of semi-custom SoCs." That beats analyst estimates by $68.7m. By semi-custom SoCs, AMD means the system-on-chips and graphics cores it designs for video game console makers, specifically Microsoft, Sony and Nintendo. Microsoft is due to use AMD-crafted chips in its Project Scorpio console due out next year and a slim Xbox One coming this Fall. Overall, AMD expects to bank $1.5bn in sales over the next three to four years from three games console chips that will hit the shelves soon.
Net income of $69m, up from last year's $181m loss. Peering into the numbers, we see a non-GAAP operating profit of $3m versus an $87m loss a year ago.
Earnings per share is $0.08 versus a loss of $0.23 in Q2 2015, beating analyst estimates by $0.03.
Gross margin stands at 31 per cent, down one percentage point sequentially "due primarily to a higher mix of semi-custom SoC sales."
Computing and Graphics segment revenues hit $435m, up 15 percent from Q2 2015. It recorded an operating loss of $81m, which is better than last year's $147m loss. The average selling price increased sequentially due to higher desktop processor price tags and decreased year-over-year due to lower notebook processor prices. The average selling prices of GPUs remained flat sequentially and decreased year-on-year. The year-on-year decrease was driven by lower desktop GPU pricing.
Enterprise, Embedded and Semi-Custom segment revenue of $592m, up five percent year-over-year "due to higher sales of semi-custom SoCs." It banked an operating income of $84m versus $27m a year ago, thanks to semi-custom SoC products and "a $26m IP licensing gain in Q2 2016 compared to $7m in Q1 2016."
"AMD had a good Q2 and forecasted a large 14 per cent year-on-year increase in Q3. While it's too soon to call this is a 'comeback,' they could very well be on the cusp of one, and no one can deny they have momentum and doing for the most part what they said they were going to do," Patrick Moorhead, principal analyst of Moor Insights & Strategy, told The Register via email.
"What's so interesting to me on the GPUs is that these numbers don't even include much of the new Polaris as it launched late in the quarter. And, of course, none of this improvement comes from Zen, which while sampling in small volumes to OEMs, won't be a financial phenomenon until 2017," he added, referring to AMD's new Polaris-powered graphics cards and upcoming Zen chip architecture.
Zen-based processors are due to arrive in notebooks and servers next year, according to Su.
"I'm becoming much more bullish on gaming consoles due to the makers' shift and believe this could bode well for AMD. There is a direct correlation between console competitiveness, the number of design changes, and AMD profits and revenues," Moorhead continued.
Meanwhile, Su said in a conference call that AMD is working on developing a number of deals with potential partners in China along the lines of the joint venture it formed in April with a Chinese manufacturer to churn out server chips in the Middle Kingdom.
"We have a nice set of interesting opportunities although these will take a while to come to fruition," she said, suggesting more will be revealed over the next couple of quarters. ®