This article is more than 1 year old
The cloud ain't making it rain for Intel right now: Tech giants pause server chip sales
We can always rely on PCs, right? Er...
Analysis Intel's stock price fell on Wednesday after it became clear the processor maker is not selling quite as many server processor chips as investors had hoped.
The Silicon Valley giant reckons its CPU sales into data centers will hit double-digit growth by the end of the year. So far, with half the year gone, we're staring at mid-single-digit growth. This is not great. Data center processors were supposed to be strong. In reality, revenues in that sector are slowing down for Intel.
Chipzilla blamed this deceleration on enterprises and the big public cloud players – like Google and Amazon – which apparently paused their hardware spending until the time comes to build new server farms to meet demand. They've finished constructing their latest data centers and have more than enough workload capacity available for now, hence a cut in spending on Intel's x86 Xeon chips which investors didn't expect.
This slowdown has left Intel's sales book looking a little leaner than anticipated, although the biz is confident server chip orders will start flowing in again over the next six months. Another piece in the puzzle is that Intel CPUs power 99 per cent of the world's data centers, according to industry estimates. There really isn't that much more room for growth in such a monopoly position especially when customers keep their wallets in their pockets.
Meanwhile, the company took a $1.4bn blow after announcing in April it will literally decimate its workforce in a massive restructuring. That effort has turned out to be rather expensive.
And its non-volatile memory sales have been knocked for six by rivals – particularly Samsung – driving down their prices, virtually pricing Intel out of the flash storage market.
Intel's stock price was down 3.25 per cent to $34.53 (£26.08) at time of publication.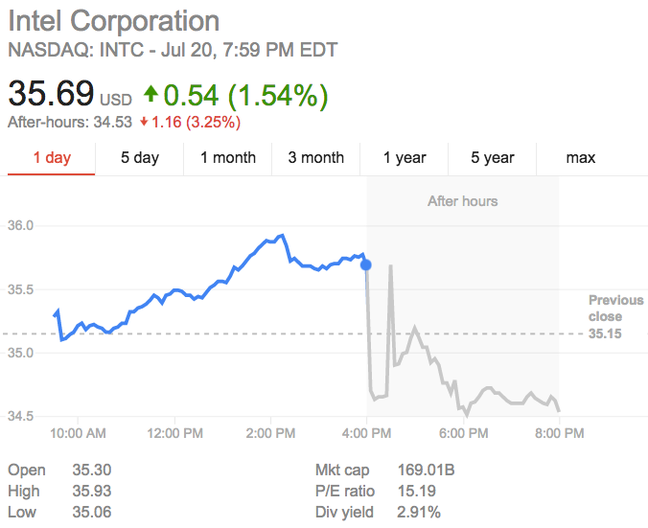 Here's a summary of Intel's Q2 2016 financial results [PDF] for the three months to July 2, published on Wednesday:
Overall revenue was $13.5bn, up three per cent year-on-year. This just missed analysts' expectations of $13.54bn.
Gross margin was 58.9 per cent, down 3.6 points.
Net income was $1.3bn, down 51 per cent from $2.7bn a year-ago, mainly due to the restructuring costs.
Earnings per share was 27 cents, down 51 per cent from 55 cents a year-ago. This was somewhat lower than the 53 cents analysts were expecting earlier.
Tax rate was 20.4 per cent, up from last year's 9.3 per cent.
The Client Computing Group (desktop PC chips, etc) booked sales of $7.3bn, down three per cent year-on-year. Operating income for the group was up 19 per cent to $1.9bn from last year's $1.6bn.

Overall volumes were down 15 per cent although the average selling prices were up 13 per cent. Desktop volumes were down seven per cent and the average selling prices were up one per cent. Notebook volumes were down five per cent and the average selling prices were up two per cent. Tablet volumes were down 49 per cent and the average selling prices were up "significantly."

The Data Center Group (CPUs for servers, cloud providers, etc) booked sales of $4bn, up five per cent. Operating income for the group was down four per cent to $1.77bn from last year's $1.8bn, due to increased costs in ramping up 14nm chip production.

Volumes were up five per cent and the average selling prices were down one per cent, "as a result of strong unit growth in networking and storage."

The Internet of Things Group booked sales of $572m, up two per cent. Operating income for the group was down to $89m from last year's $145m.
The Non-Volatile Memory Solutions Group booked sales of $554m, down 20 per cent. The group made an operating loss of $224m versus a $92m operating profit in Q2 2015.
The Intel Security Group had revenues of $537m, up 10 per cent. Operating income for the group was up to $97m from last year's $22m.
The Programmable Solutions Group (basically, Altera that Intel bought last year) booked sales of $465m, up 12 percent year over year when compared to Altera's results from a year ago. The group made an operating loss of $62m.
That data center sales growth of five per cent is less than the eight or more per cent analysts were expecting, and is down on the 11 per cent growth seen this time last year. So it's slowing down when it should be picking up to offset the falling desktop PC chip sales. What's going on?
"We had actually forecasted a pause in [data center] purchasing based on what we knew of the big cloud players' ordering patterns," Intel's chief financial officer Stacy Smith said on a conference call on Wednesday. "And based on the signals we're seeing from them, we do expect a re-acceleration in the back of the year to something more consistent with what we're seeing through the last couple years."
Chipzilla CEO Brian Krzanich added:
The cloud that we have today is really built on the backs of people. It's your Facebook data, it's your Salesforce data, it's your Twitter data. The current estimates are, if you look out into 2020, that average person will generate about 1.5GB a day of data off those devices, and those are going to be all your posts and pictures and all that kind of information.

If you take a look at the average autonomous car in 2020, the estimates right now are it will throw off about 40GB a minute of data. If you take a look at the average autonomous drone doing some kind of scan, looking for somebody lost in the forest or scanning a mine, it's going to throw off about 20GB a minute.

So it's that growth in data and the need to both process it at the edge and then through the data center and into the cloud, to be able to store it, to be able to apply machine learning to all of those applications. Those all tell me that the cloud is going to continue to grow.
"It's going to be lumpy," he admitted. "These guys [the big public cloud providers] don't build out their data centers in a linear fashion. They build out a big chunk of overcapacity so that they can go and then sell that and have expansion space, and they don't build for a while.
"And so I know people worry, 'is it slowing down?' But these trends in data that tell me no, it's not slowing down over the long term, and what you're really going to see is just the buying patterns and the build-outs of the various structures that are going up."
Interestingly, the big boss was coy about Intel's modem chips. Apple is said to be considering using Chipzilla's radio chipsets for future iPhones as well as the Qualcomm silicon it's been using to date. Krzanich was asked if he could talk a little about the future of that business. Let's not get ahead of ourselves, the chief executive seemed to say: the x86 goliath first wants to prove it can make a go of modems with the XMM 7360 and then start thinking big.
"I'm more concerned about getting the leading-edge momentum going for us with the 7360 and then the follow-on in 2017 and really showing that we are a world-class modem company," he said.
Reaction
Patrick Moorhead, a tech industry veteran and principal analyst at Moor Insights & Strategy, said everyone expected the hit from the restructuring – but not the slowing Data Center Group growth.
"The biggest area of concern and the reason why Intel's stock price is down is due to the Data Center Group: they had planned in double-digit growth and they came in at single-digit growth," Moorhead told The Register.
"I will give Intel the benefit of the doubt in that it will hit that growth for the year. For one thing, there's the market size to consider, and the availability of new Broadwell processors.
"Intel tracks at a micron level its enterprise and public cloud customers. It knows exactly what's going on right down to their hardware purchasing and rollouts, hence its confidence for the rest of the year."
On the consumer side, it's not entirely doom and gloom, either: demand is growing for two-in-one laptop-tablet convertible PCs, which Intel can supply the chips for, while smartphone sales stall and tablets remain in free fall.
"Intel wins whether it's Apple or HP that sells a computer," Moorhead noted.
"The consumer market has turned into a bookend market: people buy either the cheapest or the best they can get. But they still need devices with large screens, even the kids who start off with smartphones: they need a keyboard and monitor to do their work and research online. In three to four years, there will still be a need for a device with a keyboard and a large display, that's fundamentally not going to change.
"The tablet market has declined 30 to 40 per cent. We piled on PCs because smartphones were doing so well, and the tablet market got as big as the PC market with about 300 million units a year. Now the PC market is looking better than the tablet market and growth has stopped in smartphones. In a few years from now we're see an attitudinal resurgence in PCs." ®