This article is more than 1 year old
Apple Watch craze over before it started: Wrist-puter drags market screaming off a cliff
Sir Jony ive's Waterloo
Smartwatch shipments are in freefall thanks to slowing sales of the Apple Watch.
Research house IDC says that year-over-year shipments were down 32 per cent in the past quarter, with Apple far and away taking the biggest hit as its Watch shipments fell an eye-watering 55 per cent from last year.
Analysts say that the drop is attributable to the massive popularity of the Apple Watch in comparison to the rest of the market. With no new Watch model released in recent months, consumers haven't flocked to stores like they did last year, cooling shipments.
This, combined with the massive market share the Watch holds, means that the drop from Apple skews what was an otherwise positive quarter for smartwatches.
"Apple still maintains a significant lead in the market and unfortunately a decline for Apple leads to a decline in the entire market," said IDC mobile device tracker senior research analyst Jitesh Ubrani.
"Every vendor faces similar challenges related to fashion and functionality, and though we expect improvements next year, growth in the remainder of 2016 will likely be muted."
Overall shipments on the second quarter of 2016 were 3.5 million, down 32 per cent compared to Q2 2015's haul of 5.1 million. By comparison, Apple alone shipped more units (3.6 million) last year than all vendors combined this year.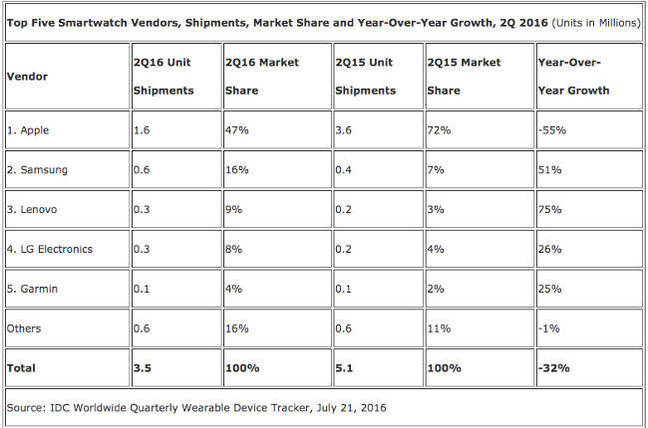 Not bad if you aren't Apple...
Cupertino's wrist candy continues to be the most popular smartwatch on the market, despite the massive drop in sales. By dropping from 3.6 million to 1.6 million units sold, Apple's market share shrank from 72 per cent to 47 per cent, still far and away the largest of any vendor.
There is good news for everyone else, however. Every other smartwatch vendor in the top 5 saw positive, albeit modest, growth in both shipments and market share.
Samsung expanded its shipments from 400,000 to 600,000, pushing its overall share of the market from 7 to 16 per cent. Lenovo moved from 3 to 9 per cent, as it sold 300,000 watches last quarter, up from 200,000. This was also enough to push Lenovo into third place ahead of LG. Garmin was fifth with 100,000 units sold. No other smartwatch vendor was able to crack six figures on the quarter. ®