This article is more than 1 year old
Seagate in 10TB drive brand brainstorm
Helium premium
Seagate has added three new 10TB helium drives, simultaneously re-branding its desktop/laptop disk and SSHDs, NAS and surveillance drive products in a complicated scheme involving disparate drive technologies.
It introduced its first helium drive, the 7-platter 10TB Enterprise Capacity disk drive, in January. Now there are three more, plus the re-branding to understand.
You'll need to concentrate so pay attention; there is a topline Guardian Series brand with three component brands; a resurrected BarraCuda with IronWolf and SkyHawk. Each of these branded product ranges is topped by one of the new 10TB helium-filled drives.
The BarraCuda desktop/laptop/gaming drive range comes in 2.5-inch and 3.5-inch versions. It has a FireCuda sub-brand featuring go-faster flash caches. The BarraCuda and IronWolf brands have higher-spec Pro sub-brands as well.
Here are the speeds and feeds;
BarraCuda 2.5-inch laptop and external storage drive

7mm thick with up to 2TB capacity
Multi-tier caching
2-year warranty
FireCuda 2.5-inch is an SSHD version

Unknown capacities
Up to 5x faster than BarraCuda 2.5-inch HDD
5-year warranty

BarraCuda 3.5-inch drive

Desktop drive
500GB, 1, 2, 3 and 4TB capacities
Multi-tier caching
2-year warranty
BarraCuda Pro 3.5-inch

High-performance workstation/gaming drive
6, 8 and 10TB capacities
6 platters; 7 for 10TB model
Dual-plane balancing, and power management
SATA 6Gbit/s interface
300TB/year workload
5-year warranty

FireCuda 3.5-inch SSHD variant

1TB and 2TB capacities
8GB of MLC flash
64MB of DRAM
Multi-tier caching technology (MTC Technology)

IronWolf NAS drive

1, 2, 3, 4, 6, 8 and 10TB capacity points
SATA 6Gbit/s
5,900 rpm for 1 to 4TB capacity models
7,200rpm for 6 to 10TB drives
AgileArray to optimize drive performance through error recovery control
Dual-plane balance and rotational vibration (RV) sensors on 6, 8 and 10TB models to mitigate vibration in multi-drive systems
RAID optimisation
Supports 1 - 8 drive bays
180TB/year user workload
3-year warranty
IronWolf Pro coming in the autumn

SkyHawk surveillance drive

1, 2, 3, 4, 6, 8 and 10TB capacity points
SATA 6Gbit/s
Rotational vibration sensors to help minimize read/write errors
ImagePerfect supporting 64 high resolution cameras; more than any other industry drive
180TB/year workload
3-year warranty
Data recovery services option

Seagate Guardian Series brand imagery
BarraCuda and FireCuda
Seagate says that, with its 7,200rpm spin speed, the BarraCuda Pro is the fastest 10TB drive available.
The 3.5-inch FireCuda SSHD has only 1 and 2TB capacities, which seems disappointingly small. There are just one and two platters respectively inside an enclosure measuring 0.782 or 1.02 inches high, 4 inches wide and 5.787 inches deep.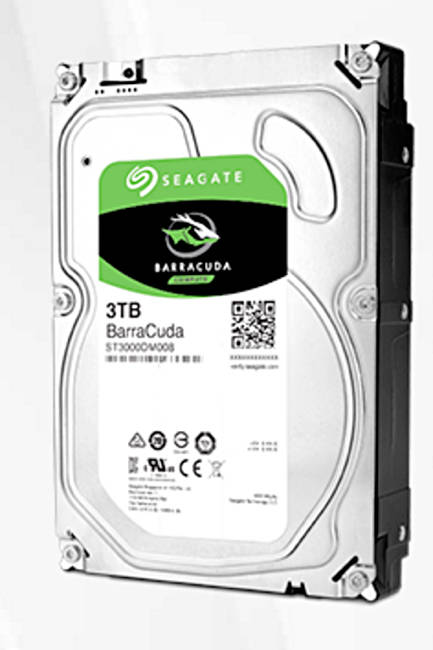 The 10TB BarraCuda Pro enclosure, with 7 platters inside, measures 1.028 inches high, 4.01 inches wide and 5.787 inches deep. Unless there is a lot of empty space inside the FireCuda 3.5-inch the flash caching must take up space that could otherwise be used for disk platters, and thus limit its capacity.
Alternatively there could be some constraint in the cache and platter capacity ratio and algorithms that dictate the FireCuda's flash and disk capacities.
IronWolf
This brand seems to have two different drive technologies. The 1 to 4TB models spin at 5,200rpm while the 6 to 10TB ones rotate faster, 7,200rpm; Why the 1 to 4TB versions spin at a slow 5,900rpm is a mystery. Perhaps it's basically the old NAS HDD which also spun at 5,900rpm and had a 1-8-bay characteristic.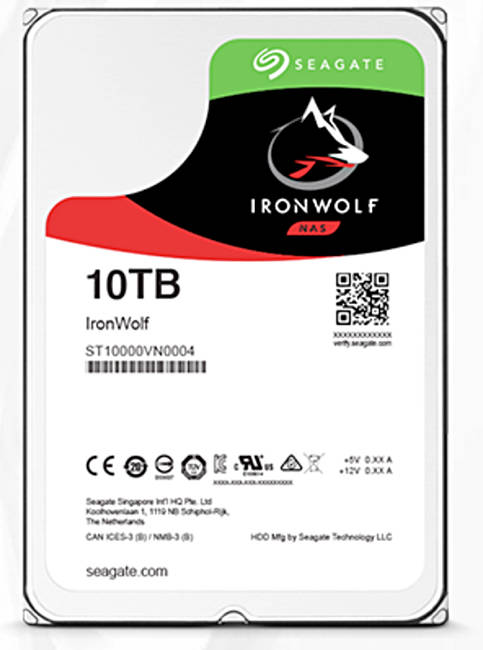 There is a 64MB cache for the 1 to 4TB drives, 128MB for the 6TB one and 256MB for the 8 and 10TB versions. The max sustained data rate also varies; 180MB/sec for the 1-4TB drives, 195MB/sec for the 6TB one and 210MB/sec for the 8 and 10TB variants. Curious.
Seagate does not reveal the platter count in the IronHawk drives, but we can be confident the 10TB model has 7 platters spinning inside a helium-filled cavity. We can also be fairly confident that the areal density differs between the 7,200 and 5,900 rpm drives.
SkyHawk
It seems pretty clear that SkyHawk is the existing 1 - 8TB Surveillance HDD with an added 10TB helium drive topping. That Surveillance HDD had the 64-camera support, 7,200rpm spin speed and 180TB/year workload.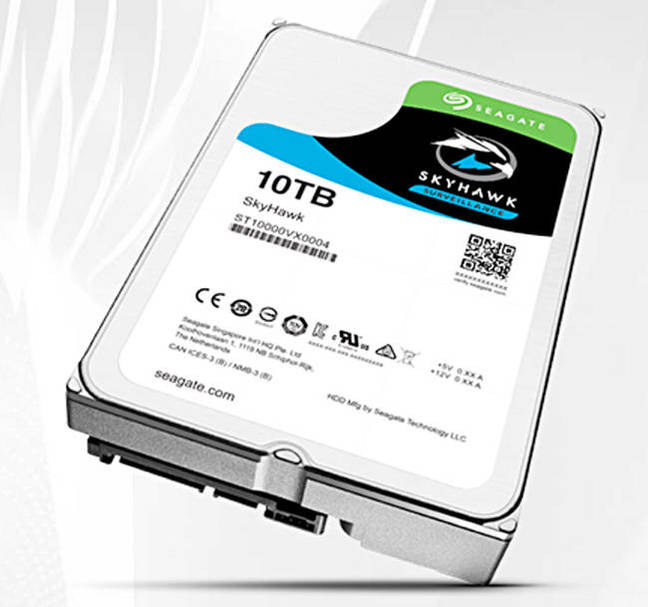 The cache sizing is simpler than IronWolf; 64MB for the 1-4TB drives and 256MB for the 6-10TB ones. Only the 4TB and larger drives have rotational vibration sensors and these can be fitted in enclosures with more than 8 bays.
Comment
No doubt all of these models have been specified and designed by fiendishly clever marketeers to fit specific market segments and sub-segments, and maximise the drives' selling potential.

Seagate seems to be trying too hard. Having a capitalised "C" in BarraCuda seems odd, but it's probably done to be consistent with the second capitalised letter in IronWolf and SkyHawk.
IronWolf could be viewed as over the top for an SMB NAS drive. As for FireCuda; what's that about? Surely CudaFire would have been better and just as snappy; BarraCuda Fire being rejected as clumsy we guess.
The overall mix of Guardian Series top-level branding, BarraCuda 2.5-inch and 3.5-inch brands, BarraCuda Pro, FireCuda 2.5-inch and 3.5-inch sub-brands; plus the IronWolf, IronWolf Pro and SkyHawk brands, is heavy going; give us a break Seagate.
Availability and prices
IronWolf and BarraCuda Pro are shipping worldwide. SkyHawk (10TB we assume) is sampling to select customers with wide-scale availability coming soon. An IronWolf Pro model is promised for the autumn.
A 10TB BarraCuda Pro lists at $535, while a 10TB IronWolf is $470 and the SkyHawk 10TB drive is $460. ®