World exclusive Dell's ingenious strategy for financing its audacious $67bn acquisition of EMC is a secret no more.
Dell is already facing a staggering debt mountain to fund the takeover.
Now a crack Reg investigative team can reveal that the Round Rock computing giant has an ambitious plan in place to raise the cash necessary for the deal – and it involves kicking out a line of portable PCs that are so powerful they shatter conventional price structure. Behold, the $650,000 Precision 7700-series laptop, available from dell.com.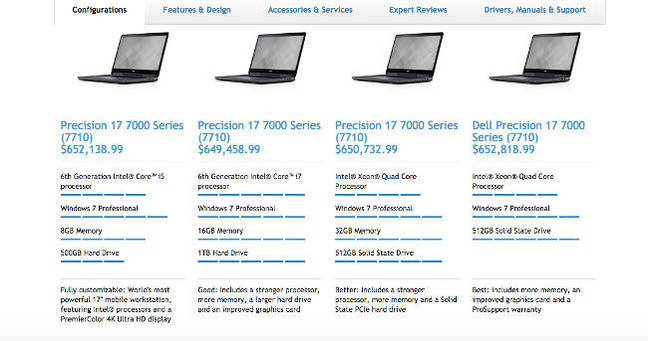 Throw out your MacBooks and take a second mortgage, because the game just changed (click to enlarge)
These revolutionary notebooks, touted as the "world's most powerful," will almost certainly turn the IT market on its head. Given the price, the only logical explanation we can find is that Dell has advanced the field of computing by such amazing leaps and bounds that all other electronics will now be obsolete.
The $652,000 superbooks – on sale, down from a million dollars – will sport a state-of-the-art "Windows 7" operating systems, the software that Microsoft doesn't want you to have. It is also packed with a "Core i5" processor from Intel, and a full 500GB of storage space.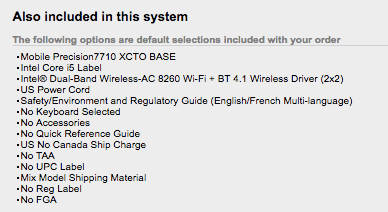 Accessories are extra, though
For those who may not be able to splash out the $650k up front, Dell is offering a generous financing program with payments as low as $19,565 per month, well within the spending range of even the most junior of Oracle VPs.
While the cost of the systems may seem steep, Dell doesn't need them to sell far and wide. Just 102,631 units sold would scare up the necessary money for the EMC buyout. Sure, Dell's PC business is going through a rough patch, but cracking the 100,000 mark should still be doable.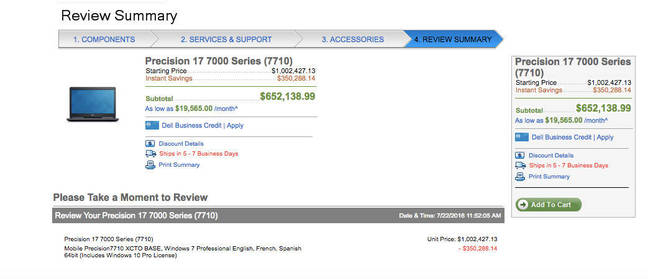 So only about three months of rent of a one bedroom apartment in San Francisco
When confronted with El Reg's findings, Dell predictably went silent, as if it were treating today's startling revelation as a mere website programming error. More on this breaking story as it develops. ®
Updated to add
After we contacted Dell, the US tech titan tore down the pages for its Precision 17 laptops (normal RRP: $1500). Good thing we took screenshots, huh?