We're not looking for MH370 in the wrong place say investigators
Glide-path theory debunked by the company that raised it
---
Dutch geosciences company Fugro has denied that the search for missing Malaysian Airlines flight MH370 has been conducted in the wrong place.
Reuters yesterday quoted Fugro figures as saying that the chosen search area assumes the plane met a sudden end, but that if the crew were awake the plane could have glided well beyond the current search area.
It's long been assumed that whatever happened to the Beijing-bound plane incapacitated the crew and led to it flying until it ran out of fuel, somewhere in the south of the Indian Ocean. The search area, depicted below, was determined after analysis of data including seven satellite handshakes.
The search zone is in a part of the ocean in which Australia has responsibility for search and rescue operations, so the nation's Transport Safety Bureau (ATSB) has conduct of the search. Chinese and Malaysian authorities are assisting the search, which has covered nearly 110,000km2 of the 120,000km2 search area.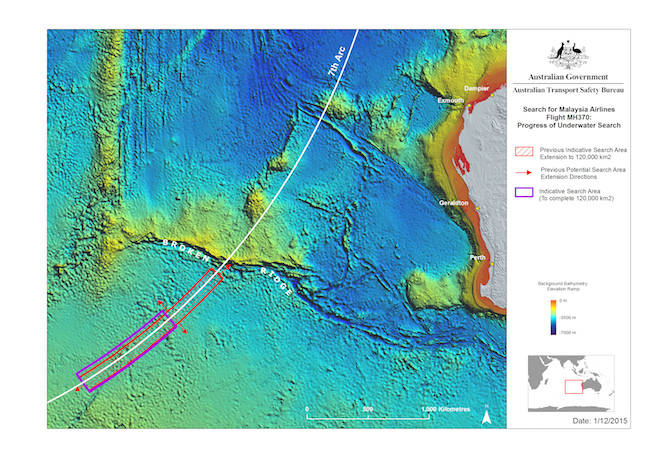 The search zone for MH 370. There's a 4MB version of the image here, for those of you who like detail
The ATSB offers weekly reports on the search and tempers those with statements about the extreme weather conditions in the search area. This week's report, for example, states "Our work will continue to be thorough and methodical, so sometimes weekly progress may seem slow. Please be assured that work is continuing and is aimed at finding MH370 as quickly as possible."
Families of the missing passengers are understandably dissatisfied with progress, while some aviation pundits continue to argue that a different fate befell the aircraft.
Hence the potential explosiveness of the Reuters story: two years of wasted effort would not be welcome!
But Fugro has moved quickly to pour cold water on the story, issuing a correction as follows:
"Fugro wishes to make it very clear that we believe the search area to have been well defined based on all of the available scientific data. In short, we have been thoroughly looking in the most probable place – and that is the right place to search."
That's Fugro's bolding, by the way.
+Comment: To your correspondent's mind, it seems profoundly odd that if MH 370's crew woke in time to glide the plane to a softer landing they didn't also make an attempt to contact someone and explain the plane's plight. Even if the plane's comms systems were down, the many emergency communications systems aboard commercial planes, and in their life rafts, offered plenty of possibilities. ®