Free Windows 10 upgrade: Time is running out – should you do it?
Some downsides, but most Windows users will be surprised
Microsoft's free Windows 10 upgrade offer runs out this Friday, 29 July 2016, one year after the initial release, and a few days before the Anniversary Update.
"This is more than a one-time upgrade: once a Windows device is upgraded to Windows 10, we will continue to keep it current for the supported lifetime of the device – at no cost," saidWindows boss Terry Myerson when the offer was first announced.
It is all to do with the idea of "Windows as a service," an operating system that is updated for you automatically, with new features arriving when they are ready.
What will the upgrade from Windows 7 or 8 cost after July 29? The full release will remain available; current prices are $119.99 (UK £99.99 inc VAT) for Windows 10 Home or $199.99 (UK £189.00 inc VAT) for Pro. A spokesperson told us that "After the July 29th upgrades to Windows 10 Home will cost £99. Meanwhile, Windows 10 Pro will be priced at £130."
The free upgrade has never really applied for businesses other than the smallest. Windows 10 Enterprise, which is the true business edition, has never qualified for the free offer, and Microsoft does its best to keep business customers on software assurance packages which allow upgrades anyway.
That said, it is hard to see how Microsoft, having pushed free Windows 10 upgrades so forcibly, will now discourage them with punitive pricing. It will be no surprise if more favourable pricing emerges after the cut-off date.
It is in Microsoft's interests for everyone to upgrade, since the traditional upgrade cycle harms its ability to establish new features like the Windows Store and the Universal Windows Platform, the cross-device application runtime introduced with Windows 10 and Windows 10 Mobile.
Is it in your interest though? That is the question, so here are the pros and cons.
Should I upgrade to Windows 10?
Windows 7 still has advantages, despite its age. Released in October 2009, it is perhaps the most coherent Windows release, and was current until the release of Windows 8 in October 2012. Its wide use in business means that most applications support it, and for many users it is hard to find real-world advantages in upgrading. They will be missing out on seven years of Microsoft's efforts to improve security and performance, but the extra risk is hard to quantify.
Upgrading to Windows 10 does have some downsides. Microsoft's business model for Windows is changing, especially in the consumer market, and it is notable than in company's recent earnings announcements, CEO Satya Nadella stated that "Search advertising revenue excluding traffic acquisition costs grew 16% (up 17% in constant currency) with continued benefit from Windows 10 usage."
The Cortana digital assistant in Windows 10 is hooked to Bing, and the operating system is more in-your-face than previous releases, with things like app purchase suggestions popping up unbidden. This is also why Windows 10 grabs more data by default than previous versions.
After a year of fine-tuning, the in-place upgrade for Windows 10 now works most of the time, but experience suggests that some fine-tuning is generally needed after the event. As ever, taking a separate backup first is a good precaution, though there is also an undo option for the first month.
Windows 10: The downsides
Perhaps the biggest issue with Windows 10 is that some of the split personality which afflicted Windows 8 remains. The UWP has real advantages in terms of manageability and to some extent security, but apps behave differently and it is a less complete platform than good (or bad) old Win32/Win64. A simple example is the new UWP calculator; it may be prettier than the old accessory, but it is slower to launch, takes more screen space without advantage, and has focus issues so that if you launch it from the keyboard and type some numbers, half the time the input does not work until you click on the app. Settings is another confusing area, with the old Control Panel still essential but many settings moved to a UWP system utility.
The Windows 10 Start menu is not altogether better than that in Windows 7. Despite reverting from the full-screen affair in Windows 8, it is not the same thing at all, and is slower and more complex.
Windows 10 upsides: Why most people should still upgrade
Despite these issues, the upgrade is the right thing for most people, if the hardware is compatible.
One reason is simply that Windows 10 will be serviced and supported for longer, so if you plan to stick with Windows you will have to upgrade sometime.
Second, while Windows 10 does have its share of annoyances, they are outweighed by the number of things that have improved. Forget Cortana; it is things like the primitive Windows 7 File Copy dialog that are annoying if you return to 7 after using Windows 8 or 10. The newer File Copy handles multiple file copies better, with options to pause and resume each operation.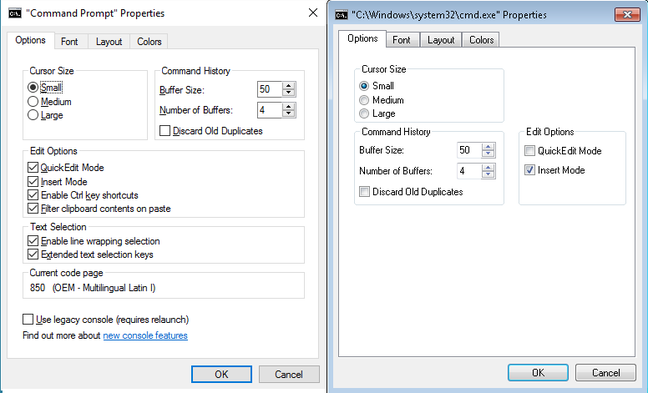 Windows 10 (left) and Windows 7 (right) command prompt properties
Power users will also appreciate the Windows 10 command prompt with its text selection and quick editing features. Command line lovers get an even bigger treat with the forthcoming Anniversary update, which includes Linux Bash for a true Unix-like experience.
Microsoft's Project Centennial, another Anniversary feature, is also a big deal. This extends the Windows Store so you will be able to install desktop applications with the same simple add and remove management as UWP apps. Provided that third-party vendors take this up, it promises easier and safer install and uninstall for Windows users.
Another uncontentious improvement in Windows 10 is multiple desktops, which for those who use them are a significant advantage. They are nicely implemented with easy switching.
Games players have several reasons to upgrade. There is DirectX 12 with significant performance gains, as well as Xbox One streaming which lets you play console games on your PC.
I'm on Windows 8 – what about me?
What about Windows 8 users – should they upgrade? The answer is yes, perhaps unfortunately for touch users. Windows 8 represents an abandoned strategy to make a version of Windows optimized for touch users. There are remnants in Windows 10 - not least the UWP - but the signs are that Windows 7 will long outlast 8.x in common use, with obvious consequences for support, especially from third parties.
Microsoft's validation for an upgraded Windows 10 - in other words, the way Windows detects whether or not it is genuine - is based on the unique properties of each device. This means that if you upgrade now, but revert to Windows 7, it should be possible to reinstall 10 later and find it fully licensed. The best of both worlds for the cautious? ®