Intel's non-volatile memory is firmly in non-growth territory
Chipzilla SSD revenues diving while it converts to 3D NAND
Analysis Intel's non-volatile memory product revenues are diving as it converts to 3D NAND and waits for XPoint to deliver the goods.
Intel's second quarter 2016 flash revenues of $554m were down 20 per cent year-on-year and one per cent sequentially.
Analyst haus Stifel Nicolaus' MD, Aaron Rakers, charted Intel's quarterly flash product revenues and we can immediately see a four quarter decline.
The company talks about a challenging price environment and we would point out it, and flash foundry partner Micron, are late into 3D NAND, which is being popularised by Samsung, with its 48-layer technology.
This means, in general, that Samsung can supply flash capacity more cheaply than Intel/Micron as its flash wafers have three bits per cell whereas Intel/Micron's have two bits per cell.
The client computing 850 EVO SSD from Samsung now has up to 4TB of capacity using 48-layer 3D TLC NAND for the 4TB model. Its the first 4TB PC/laptop SSD. Lenovo is now also shipping its own Atsani* M.2 NVMe SSDs. Both these data points indicates how flash drive supply is broadening and competition intensifying.
Intel is also facing the winding down of an SSD supply contract to WDC's HGST unit which sold Intel-based SSDs. As WDC has bought SanDisk and has acquired its foundry partnership with and output from Toshiba NAND fabs then it will change the Intel/Micron flash componentry to SanDisk/Toshiba NAND and save itself cost.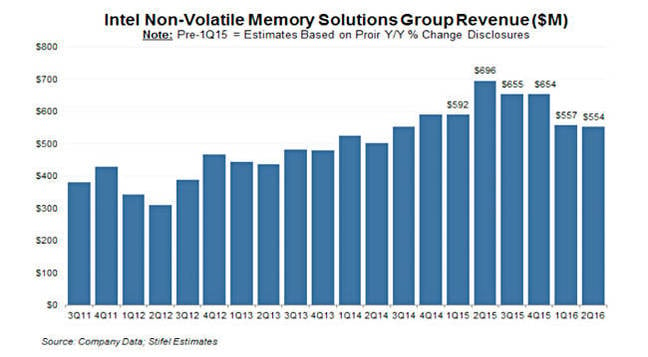 Chipzilla is converting its Dalian fab in China to build 3D NAND and initial wafer production has started. Rakers writes that "Intel/Micron expects it will have cost effective pricing on 3D-NAND in 2HC2016" but whether this translates into increased non-volatile product revenues for Intel depends upon market dynamics. In general, in the flash product market you have to run to stand still, and Intel has fallen behind – so it has to catch up before it can run ahead of the pack.
Intel is looking to bulk up its non-volatile product revenues with the coming Optane 3D XPoint drives. Intel might launch Optane either at the Flash Memory Summit in Santa Clara, Aug 89-11, or the Intel Developer Forum in San Francisco, Aug 16-18. Optane SSDs should start sampling before the end of the year.
But Optane revenues will start in 2017. So we could see continued declines in Intel flash revenues in the third and even fourth 2016 calendar quarters. ®
* See Atsani drives lusted on the recent NVMe plugfest which also listed Intel's Optane 3D XPoint SSDs.