This article is more than 1 year old
BlackBerry's new best pals: Microsoft, Google, Samsung
'I cannot buy everything. Or manage everything' ... We need partners – Chen
BlackBerry didn't drop any bombshells at its annual Security Summit last week. Unlike previous years, there were no surprise acquisitions or products. But it did conspicuously share the limelight with a number of partners, some of which may make jolly good new owners.
On the stage were Samsung, Google and Microsoft. The latter got another fillip on Monday, with BlackBerry announcing that its acquired software platform Good can run on Microsoft's Azure cloud. BlackBerry's homegrown management suite has run on the Azure cloud since March this year.
(If you think Microsoft buying BlackBerry is strange, it can't be as strange as Microsoft buying LinkedIn.)
As for funding its own acquisitions, BlackBerry has $2.5bn in cash and investments in the bank. However, its CEO and turnaround artiste John Chen, now surrounded by familiar Sybase veterans, prefers performing surgical takeovers. And in truth, there's limited scope in what anyone can do with $2.5bn against platforms dominated by much larger players.
"Our game plan isn't to buy more revenue, but we will make more acquisitions," Chen promised.
Here are some slides from the summit showing where the biz is focused: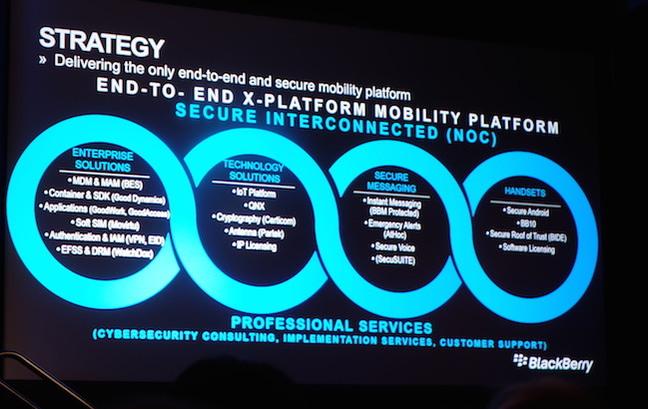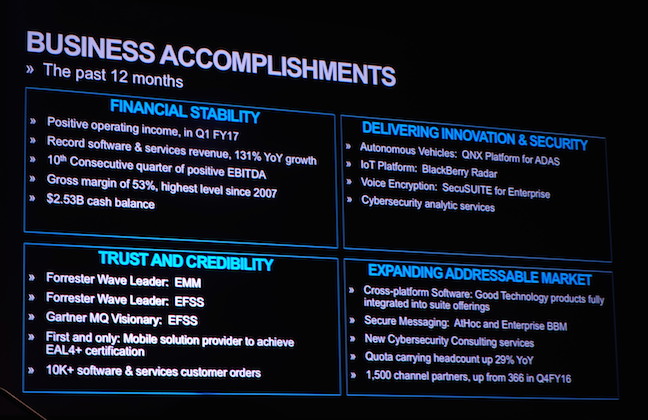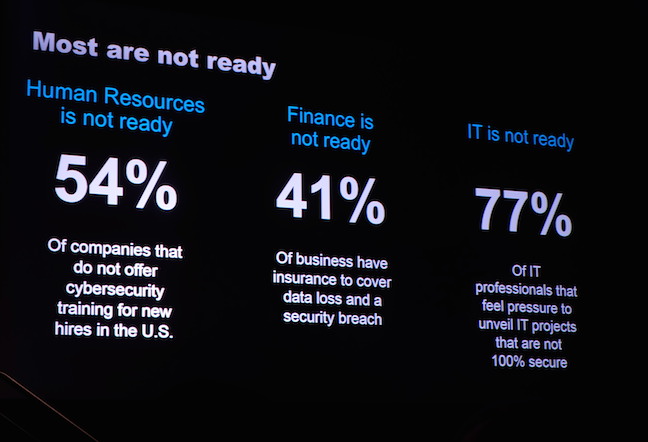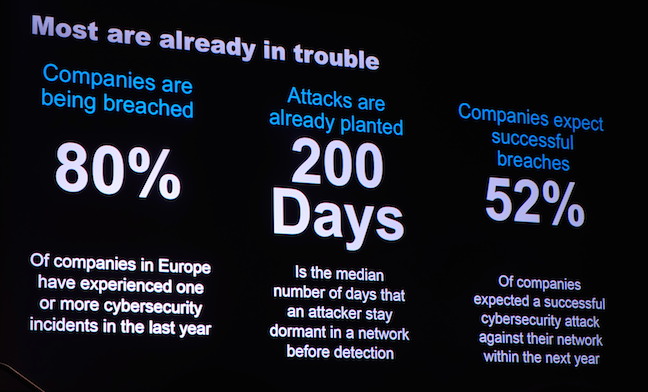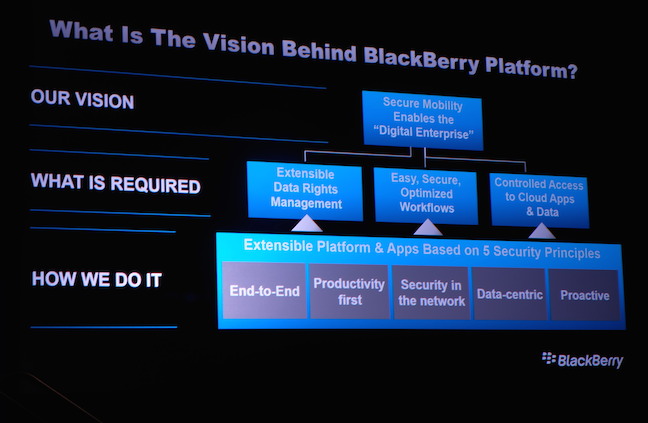 BlackBerry touted the "end-to-end" nature of its offerings, but that doesn't mean everything between the ends is powered by a BlackBerry product or service. "I cannot buy everything. Or manage everything. Right now we're covering communicating channels. With other things we'll have to partner," was Chen's clue.
One thing BlackBerry has brought in-house is security squawker AtHoc, which was gobbled up a year ago. This alerts service is used to spread information during critical emergency situations; random and almost daily atrocities are a macabre reminder of the need for this.
Another purchase is Radar, an Internet-of-Things-ish assets tracking system that's in three pilot projects.
"Containers and trucks are two separate things ... The container security problem is a big problem not too many people have solved. One niche company really does that and we'd like to move into that space," said Chen.
The company is expected to announce its latest handset, its first of 2016, at a press event scheduled for Tuesday. ®