This article is more than 1 year old
Citrix's GoTo goes to LogMeIn in $2bn merger
LastPass owner brags about $1bn-a-year sales
LogMeIn has effectively taken over Citrix's unwanted GoTo business.
The merger comes after Citrix axed 1,000 staffers in November and threatened to spin off GoTo.
The gobble is worth $1.8bn in shares, and effectively puts remote desktop developer LogMeIn in charge of GoTo, Citrix's remote access and conferencing family. LogMeIn CEO Bill Wagner will run the combined operation, which is expected to bank annual revenues of $1bn or more.
It also means LastPass – bought by LogMeIn for $125m in October – now falls under the GoTo umbrella.
LogMeIn had subscription sales of about $270m last year, and GoTo brought in $600m. The GoTo family includes GoToAssist, GoToMeeting, GoToMyPC, GoToTraining, GoToWebinar, Grasshopper and OpenVoice. The merged GoTo-LogMeIn will have more than two million customers in virtually each country, we're told, and the Reverse Morris Trust deal has been approved by Citrix's and LogMeIn's board of directors. It'll be a tax-free maneuver, in other words.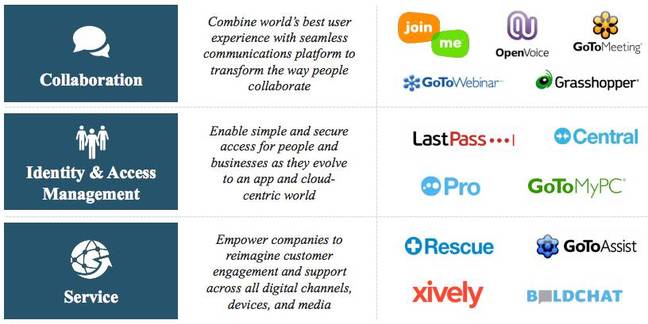 How Citrix's GoTo and LogMeIn see themselves fitting together ... Source: Investor presentation slide
LogMeIn's Ed Herdiech will be chief financial officer of the combined operation, and some of GoTo's management team will join the outfit as well. It will be overseen by four Citrix directors and three LogMeIn directors; LogMeIn chairman Michael Simon will chair the board for the merged company. There needs to be a shareholder vote, plus the usual regulatory approvals, before the deal can complete in the first quarter of 2017.
The new biz will be headquartered in Boston, where LogMeIn is based. A bunch of LogMeIn staff moved into renovated office space in San Francisco just over a year ago, right above El Reg's floor. Citrix is based in Fort Lauderdale, Florida. ®