Commvault has sustained its recovery for a third quarter although it has recorded a loss after a much smaller income tax benefit was applied than a year ago.
The first fiscal 2017 quarter saw a 9.6 per cent rise in Commvault's revenues to $152.4m: they were $139.1m a year ago, and $159.6m in the seasonally higher preceding fourth fiscal 2016 quarter.
Within this, software revenue was $63.9m , 13 per cent higher year-on-year, and services revenue of $88.5m, up seven per cent year-on-year.
Profitability is very finely balanced. The $5.8m profit in the prior quarter gave way to a $2m GAAP net loss, which is slightly worse than the $1.3m loss recorded a year ago. Loss before income taxes was $2.63m compared to $6.3m a year ago.
This time there was a much lower income tax benefit of $581m compared to the $4.99bn applied a year ago, resulting in the different GAAP net loss numbers.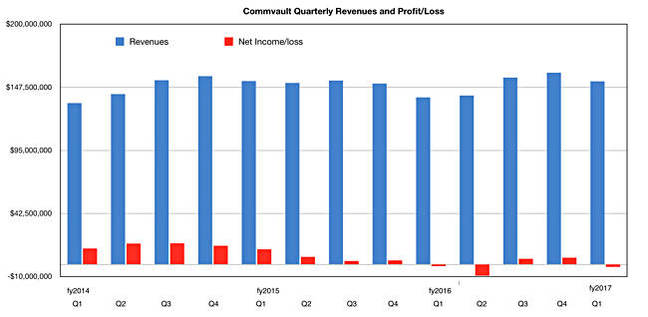 Operating cash flow totalled $24m for the quarter
Total cash and short-term investments were $410.2m on June 30, 2016 compared to $387.2m on March 31, 2016
There were no borrowings against the revolving credit facility or repurchases of Commvault's shares during the quarter
At July 26, 2016, there was $93.1m available under the share repurchase program that currently expires on March 31, 2017
All-in-all, Commvault looks financially healthy and set to grow. So we hope for a 1-2-3-4 in three months' time, with revenues above the $140.7m reported in the year-ago second quarter. ®