In its last quarter as an independent company, QLogic grew revenues 2.6 per cent and profits by 700 per cent in a year. Its future lies inside Cavium and it has to deal with a declining Fibre Channel business.
Revenues of $116.4m were ahead of the year-ago $113.4m but down on the seasonally-higher prior quarter's $119.4m.
Net income of $18.3m was a massive jump on the $2.6m recorded last year and also a smidge up on the $18.2m in the preceding quarter. As an aside, CFO and acting CEO Jean Hu has consistently played a great hand during her time at QLogic.
Advanced Connectivity Platforms (adapters and ASICs for server and storage connectivity applications) revenue was $108.6m during the quarter, up six per cent annually; it was $102.6m last year, but down one per cent sequentially.
Stifel Nicolaus MD Aaron Rakers says the Legacy Connectivity Product segment (mostly Fibre Channel switch products) revenue totalled $7.78m, down 28 per cent annually and down 21 per cent sequentially.
QLogic is about to be bought by Cavium for $1.3bn so these results are pretty much a formality.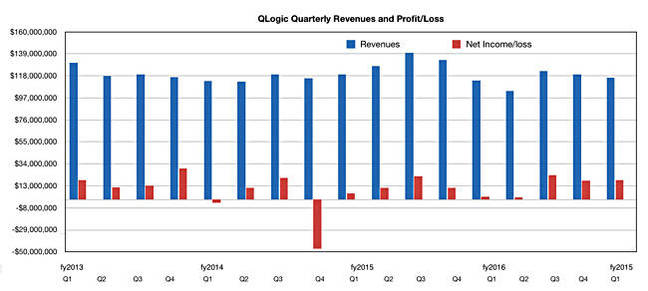 Going nowhere: QLogic quarterly revenues and net income history
The purchase should close by the end of September.
Comment
Basically QLogic has a declining or no-growth Fibre Channel business and a 10/25/40/50/100Gbit Ethernet and iSCSI adapter line using its own ASICS. Some of these provide converged Ethernet and Fibre Channel protocol connectivity, but that technology has not taken off, much as FCoE failed to capture data centre buyers' hearts and minds.
However, Ethernet could well be the way forward for external storage array networking, with ROCE (RDMA Over Converged Ethernet) being used as a way to implement NVMe over Fabrics and deliver remote flash store access at virtually the same speed as local flash drive access. QLogic engineers are looking at that; for example, the FastLInQ 45000 series Ethernet controllers support ROCE.
Cavium itself reported revenues of $107.2m for the second calendar 2016 quarter, 2.1 per cent up annually and 5.2 per cent sequentially. It had a net loss of $7.4m, worse than the $3.8m loss in its first quarter. Will QLogic's ASIC expertise survive and prosper after the Cavium acquisition? Interesting question.
With Emulex having been acquired by Avago last year and QLogic going to Cavium, that leaves Brocade as the last independent and major Fibre Channel product provider, busy rolling out 32Gbit/s capabilities. How will it deal with a move to NVMe over Fabrics? That's another interesting question. ®