Google's only major consumer mapping rival, HERE, has dropped Maps from its app name in a bold rebranding exercise. After many hours in the Strategy Boutique, the map apps is now named after the ancient British football chant... Here We Go.
The rebranding reflects HERE's greater emphasis on route planning and directions, with walking, public transport, car sharing and taxi stands, and bike lanes all emphasised, rather than shopping.
HERE c's main UI doesn't look too different from the Here Maps UI, though, and still has a Nearby panel, allowing you to find nearby shops, bars or cashpoints if you want them. But it isn't half so pushy as money-obsessed Google has always been keen to divert you to commerce.
The app's star attraction, as before, is the ability to download the world's maps for offline use. Google Maps only allows a portion to be downloaded.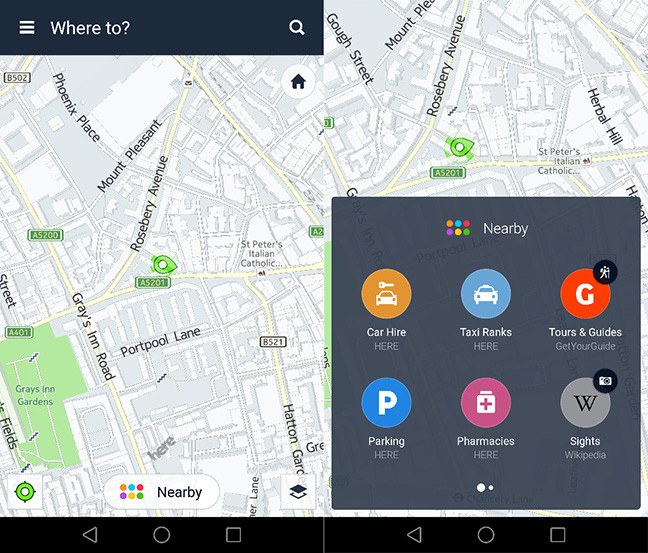 HERE was acquired by a consortium of German car giants, BMW, Audi and Daimler, last year for €2.8bn (that's £2.36bn in real money).
HERE told us earlier this year that it continued to map the streets. "We want to go beyond photography and create a computable 3D map - so you can not just look at it but manipulate it in some way too," a spokesman promised.
It's risky move to take the main purpose of your app out of the app's name. But still, how heartwarming to see a homage to one of our most underrated exports - football hooliganism.
Once again, we are sending our lads abroad to fight without the proper equipment - disgraceful pic.twitter.com/YPeRnbX07I

— (((Steve Bong MBE))) (@BongVentures) June 13, 2016
®
Similar topics