This article is more than 1 year old
Tesla autopilot driver 'was speeding' moments before death – prelim report
Turns out a simple thing could have saved his life
The US National Transportation Safety Board (NTSB) has released its preliminary report into the Tesla crash that killed Joshua Brown, a 40-year-old Ohio man who was using the car's Autopilot function at the time of his death.
Brown was driving down US Highway 27A in Florida when a truck hauling a 53-foot trailer packed with blueberries from a nearby farm pulled across the road to make a turn. Neither the driver nor the Autopilot spotted the truck and Brown's car slammed into the trailer, ripping the top off the Tesla Model S sedan.
"Tesla system performance data downloaded from the car indicated that vehicle speed just prior to impact was 74 MPH," the report notes. "System performance data also revealed that the driver was operating the car using the advanced driver assistance features Traffic-Aware Cruise Control and Autosteer lane keeping assistance."
The posted speed limit for the road was 65mph. According to Tesla's data, Brown was traveling over the limit – but not so much that the cops would pull you over unless they were short on their traffic ticket quota for the month.
Tesla's Autopilot – really super cruise-control software than a self-driving AI – can read road signs and use maps to work out the speed limit of the road so it can stay within the law. However, this feature is unreliable and is disabled in its current implementation. That means the car goes as fast as the driver tells it to. The Autopilot system is shipped as a beta for people to test.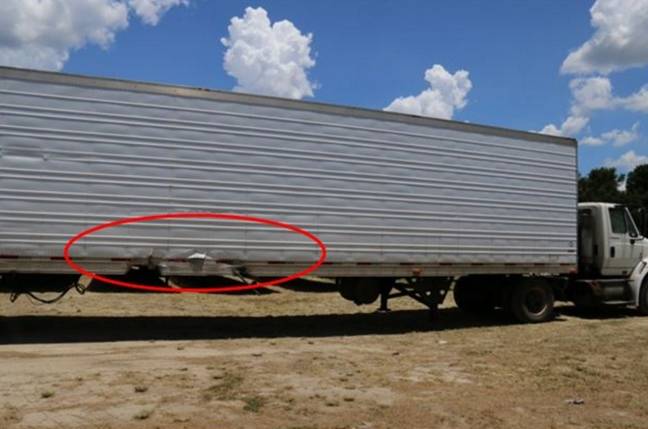 While the Tesla was destroyed, the truck and trailer was relatively undamaged
After hitting the trailer at a 90-degree angle the car then carried on under it and out the other side. It then travelled 297 feet down the road before smashing down a utility pole, and spun counterclockwise for another 50 feet before coming to a halt outside someone's drive perpendicular to the highway.
The report notes that the day was dry and sunny, perfect driving conditions, and the car's safety systems automatically shut down the car's motors in the instant of the crash. But that was too late for Brown.
Tesla has said that the reason for the Autopilot failing to spot the trailer was that it was white and, on a bright sunny day, neither the car's sensors nor the driver spotted it crossing the road. The NTSB said that it is still examining the sensor data from the car and is expected to issue a full report in the next 12 months.
It's clear from the preliminary report that if the trailer had been equipped with side Mansfield bars the driver would almost certainly still be alive today. Named after Jayne Mansfield, the actress who was killed after running into the back of a lorry, the bars are designed to stop cars from going under trucks.
Mansfield bars are mandatory on the rear of trucks in the US but, unlike Europe, not on the sides. Maybe that's something legislators might like to consider. ®