This article is more than 1 year old
Quantum leap: A good quarter for disk backup gear, and yeah tape's OK
Revenues grow, losses shrink and tape market stabilises
Quantum's first fiscal 2017 quarter – the three months to June 30, 2016 – showed revenue growth as the tape market stabilized and big deals came good.
Revenues of $116.3m were five per cent higher than last year's $110.9m. There was a net loss of $3.8m, better than the $10.8m loss recorded a year ago and the unfortunate $52.4m loss in the previous quarter.
Compared to the year-ago Q1:
Scale-out storage revenue grew to $30.8m, up from $27.8m.
Total data protection revenue increased to $76.9m, consisting of:

$21.5m in disk backup systems (DXi) revenue (up 24 per cent),
$42.6m in tape automation revenue (down 4 per cent),
$12.8m in devices and media revenue (up 17 per cent).

Royalty revenue was $8.6m, a decline of $1.6m.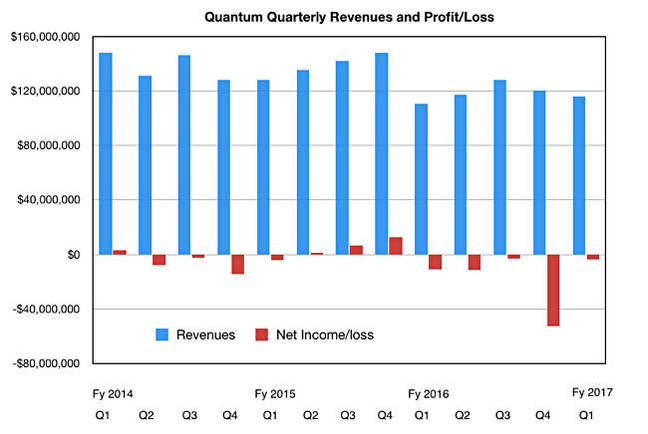 The DXi revenue increase this quarter helped a lot and, against that, the tape revenue and royalty declines were relatively minor. It was also Quantum's 20th consecutive quarter of year-over-year growth in scale-out storage revenue – now up 11 per cent – and data protection revenue growth – now up six per cent.
President and CEO Jon Gacek said: "In April we announced a large public cloud, scale-out storage win, which we expected to generate $10m in total revenue for the year. That opportunity has since expanded, and we now expect the resulting revenue contributions — which started in the first quarter — to total at least $20 million for the year.
"On the data protection side of our business, we closed a multi-million dollar DXi deduplication deal and capitalized on a more stable tape backup market."
Oh, happy days.
Chief financial officer Fuad Ahmad, referring to refinancing, added: "We are in discussions with a number of financial institutions regarding expanding our credit line to provide sufficient near- and long-term liquidity and to create a clear and executable roadmap to address our convertible notes due November 2017.
"We've received strong indications of interest from two different lending sources, each of which has provided preliminary terms that, if successfully executed in a definitive agreement, not only would provide substantial additional liquidity but also should alleviate any perceived market risks related to the convertible notes."
Next quarter's outlook is for revenues between $118m and $122m; $120m at the mid-point and a 2.6 per cent increase on the previous second quarter. That's pretty cautious, and Quantum is forecasting either zero profit or a similar loss to this quarter. Not out of the woods yet then, but on its way. ®