This article is more than 1 year old
WD disk revenues spin slower as its flash fireworks go off
Rusty spinners give way to new-fangled solid tech
WDC beat its own better-than-expected preliminary results estimates with a $3.495bn quarter but swung to a $351m loss with fewer disk units sold. Layoffs are coming.
Revenues for the fourth fiscal 2016 quarter, ended July 1, were 9.2 per cent higher than a year ago and 24.8 per cent up on the previous quarter.
This quarter had SanDisk numbers included, as the acquisition closed on May 12. It suffered a net loss, which compares to a $220m profit a year ago and a $74m profit in the prior quarter.
Revenues for the full year were $12.9bn; they were $14.6bn a year ago, a 13 per cent fall, which shows the effect of the shrinking PC disk drive market. Profits for the year were $257m, a big drop on the $1.5bn profit in fiscal 2015, an 82.9 per cent plunge.
In general WD's business is still down on fiscal 2014 quarterly revenues due to a declining disk drive market – see the unit ship chart below. It's looking at solid state products to get revenues growing again and is better positioned than Seagate in this regard as it now has a vertically-integrated chip fab-to-SSD-to-array flash product capability.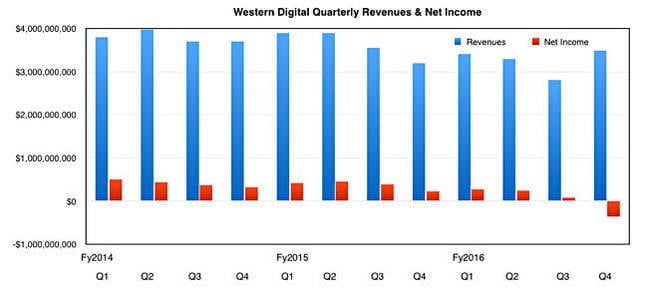 Here is the annual picture, showing a third year of declining revenues and profits: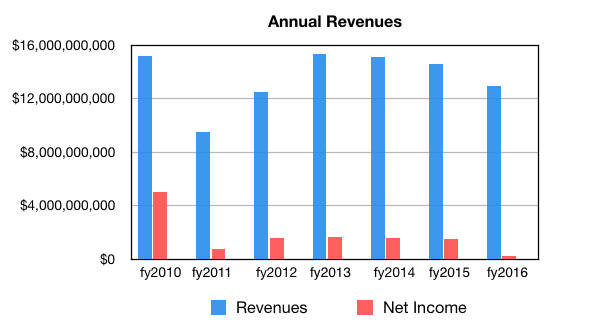 WDC shipped 40.1m disk drives in the quarter; that number was 43.1m last year and 48.5m a year ago. Charting disk drive unit ships by quarter shows the overall pattern of decline: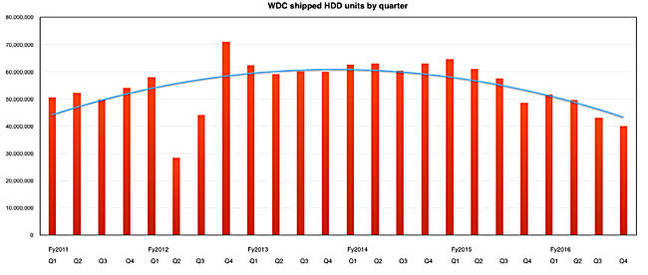 Segment-wise there was a surprise jump in CE drive shipments, from 7.3m last quarter to 10m this quarter, as gamers bought disks for the holiday season. All other segments showed declining numbers: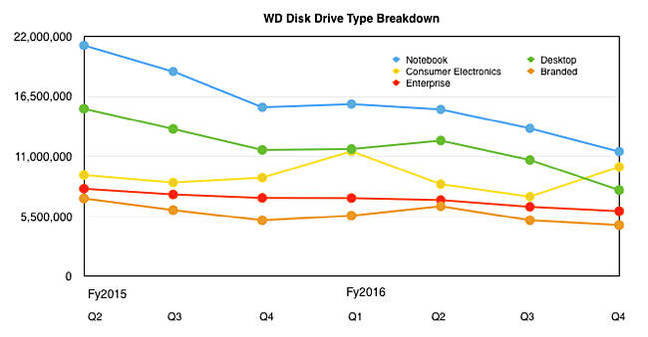 Earnings call
WD is well on the way to integrating its acquired HGST HDD and SSD business, and is progressing the integration of the moire recently-acquired SanDisk NAND flash business. In the earnings call CEO Stephen Milligan said: "Our near-term priorities include our transition to 3D NAND and the deleveraging of our balance sheet. ... We have completed the rationalisation and alignment of our product and technology roadmaps involving legacy WD, HGST, and SanDisk products, and we have shared this with our customers."
Milligan also talked about restructuring: "We have been very aggressive over a period of time of taking capacity out both in the form of brick and mortar as well as in terms of head count to react to the decline that we have seen in the hard drive market. And I want to emphasise those numbers. We've taken out 20 per cent of our facilities and 25 per cent of our head count over the course of the last two years. We also have, we have additional plans to reduce that further, up to one third and when you look at (that) from two years ago."
Therefore another round of layoffs is coming.
COO Mike Cordano added more colour: "Coupled with a series of restructuring actions, we have taken over the last two years against the backdrop of a declining HDD TAM, we have further streamlined our manufacturing footprint in recent months with the closure of two facilities in Japan and Malaysia and the announced closure of a facility in Singapore. Relative to our legacy Western Digital business, we have reduced our overall facilities footprint by almost one fifth and our head count by almost one quarter over the last two fiscal years."
He illustrated the HDD-to-SSD relationship in WDC's business: "In enterprise SSDs, we saw strength in sales in both enterprise and cloud customers. From a client devices perspective, we are benefiting from the growing attach rate of SSDs to PCs in both the commercial and consumer categories even as client HDD unit shipments decline year-over-year."
Seagate's 8TB disk success
Cordano painted a near-term demand picture: "We believe the overall demand environment is better than it has been in recent quarters driven by the following, new product cycles in mobile devices and PCs are tailwinds for our client business along with seasonality. Additionally, SSDs are continuing to penetrate further into PCs, even as PC unit volumes shrink. We are seeing a tight supply of NAND as the industry transitions from 2D to 3D NAND technology. And we are experiencing stronger demand in non-SSD flash markets such as mobile, and there is demand pull from hyper-scale customers in our cloud-related data centre business."
"Offsetting these factors, we have seen share-driven price dynamics in certain pockets of the HDD market," continued Cordano. "These include the low end of the 2.5 inch HDD market and the 8 terabyte capacity point in capacity enterprise. Consequently, we have moderated our participation in those areas. Our fiscal Q4 performance and forwarded guidance for fiscal Q1 takes these variables into account."
Seagate's entry into the 8TB disk market affected WD this quarter; that's what Cordano meant by share-driven price dynamics. He said: "I think we have ceded, as you might expect, some 8 terabyte share as our major competitor ramped. We think we're in a leading position on 10 terabyte, which will benefit us in the back half of the year."
CEO Stephen Milligan contributed this thought: "We are not expecting to cede any more [market] share."
Looking ahead
Cordano contributed more information on what the market looks like for the rest of the year: "PC growth has moderated in terms of the declines. We've seen that flatten out. That's helpful as we enter into the second half as we see normal seasonality give us a little bit of a boost. … around capacity enterprise. That will continue to be an area of growth within the hard drive segment. The other area to comment on is performance enterprise. We do see that continuing to have pressure from SSD. So there's been a downward trend in that market."
Higher-than-normal gaming sales helped WD, Cordano said, emphasising how SSD sales are boosting overall sales.
Milligan then discussed an existing royalty deal with Samsung: "First off, we nor SanDisk have historically disclosed the amount of the royalty from Samsung. The additional thing is, is that the current royalty arrangement is up for renewal and we're in discussions with Samsung regarding the terms of that renewal."
He was a bit relaxed on HAMR technology's arrival: "Well, I would say it's 2018, 2019 kind of dynamic."
WD is hoping to have $4.4bn to $4.5bn revenues next quarter, while disk drive rival Seagate is looking for $2.6bn, illustrating the growing gap between their revenue levels. Seagate is now a sub-$11bn/year business while WDC is a $13bn/year one; Luczo's luck appears to have run out.
The difference is WD ships slightly more disks/quarter – 40.1m vs Seagate's 39.2m in the latest quarters – but has a much stronger flash business. Unless Seagate gets seriously into the flash business it is set to be permanently smaller than WD in the future. Perhaps they'll look at buying SK Hynix? ®