This article is more than 1 year old
Windows 10 Pro Anniversary Update tweaked to stop you disabling app promos
Group Policy changes require Enterprise or Education edition
Group Policy changes in Windows 10 Anniversary Update, set for release shortly, mean that users of the Pro edition can no longer disable some of the more intrusive aspects of the operating system.
Group Policy is a mechanism by which system administrators can configure Windows settings centrally, for PCs joined to a Windows domain. Savvy users can also use the local Group Policy editor to apply changes to their own PCs. Windows Home cannot be joined to a Windows domain and does not include the Group Policy editor, but Windows Pro fully supports this feature.
There are thousands of settings, but journalist Martin Brinkmann has spotted some intriguing changes in the new Anniversary Update. Certain settings can now only be applied to the Enterprise and Education editions of Windows Pro.
The settings in question include "Turn off the Microsoft consumer experiences", a feature which allows Microsoft to install "recommended" third-party apps and links on the Windows 10 Start menu. In the past this has included apps like Candy Crush Soda Saga, Flipboard and Twitter. The full description of the feature states that it enables "personalized recommendations from Microsoft and notifications about their Microsoft account."
Other settings that are now Enterprise and Education only are disabling the Lock screen, disabling Windows tips, and disabling all apps from the Windows Store. However, it is still possible to disable Cortana (check out Computer Configuration - Administrative Templates - Windows Components - Search - Allow Cortana).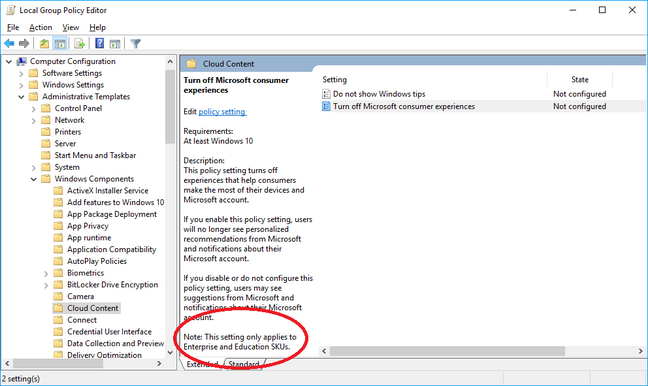 Group Policy in Windows 10 Pro Anniversary Update - note that this setting cannot now be applied to the Pro edition.
The affected settings are those that enable Microsoft to use Windows 10 for promoting apps as well as its cloud services. Windows 10 has been a free upgrade for Home and Pro users, and it may be that accepting a modest amount of promotion is in this case the price of free.
The problem though is that hitherto Windows Pro has been perfectly functional for small businesses who run a Windows domain but wish to steer clear of the expense of Software Assurance and the Enterprise edition. It is hard to see the value of Microsoft's "consumer experiences" in a business context, so the implication is that the company is making Pro less attractive for such businesses in an effort to push them towards Enterprise.®