This article is more than 1 year old
IBM's DeepFlash 150: Got half a million bucks for a fat, fast JBOF* box?
WHOMP: Half a petabyte
Combine WDC's SanDisk InfiniFlash with IBM's Spectrum Scale and you have the DeepFlash 150 array: probably the world's fastest parallel file system box.
WDC's InfiniFlash IF150 has from 128TB to 512TB of capacity in its 3U enclosure with up to 64 x 8TB MLC flash cards. It has a 12Gbit/s SAS interface.
SanDisk claims it can deliver up to two million raw IOPS and support up to eight (SAS) connected servers. There is no traditional storage array controller function with this flash array, it being the flash equivalent of a JBOD.
At launch Ceph and SanDisk's ION Accelerator software were available for it. Basically the thing needs a server box to provide storage array controller functionality and turn it into a useful system component.
Grab a datasheet here.
Where'd this pop up from, then?
SanDisk has partnership deals with Tegile (Intelliflash), Nexenta, RedHat for Ceph software, CloudBytes, Quanta and IBM.
The resulting IBM system is the DeepFlash 150. It's appeal is that you can get up to half a petabyte of data in flash and access it, via Spectrum Scale's parallel access functionality, at blistering speed. IBM says it offers "breakthrough economics with an All Flash array at a disk-like acquisition price for large scale, unstructured data."
Think less than $2/GB pricing for DeepFlash 150 with Spectrum Scale and less than $1/GB without.
Ironic, as Spectrum Scale has its roots on GPFS which was designed to overcome slow disk array speed by providing parallel IO streams. Now flash solves that problem and Spectrum Scale on the IF150 should be faster than a standard external access file protocol like NFS or SMB.
Big Blue positions it as an entry-level all-flash array "to meet all unstructured and big data storage requirements." You scale it out to get towards 7PB in a rack. Sample use case areas are big data, media and entertainment streaming, virtual desktop, high-speed database (SAP HANA), life sciences/genomics, financial services, e-commerce, telecommunications, Big Data (Hadoop, HBase and Spark) and hyper-scale environments; workloads needing low latency, high performance and sustained throughput.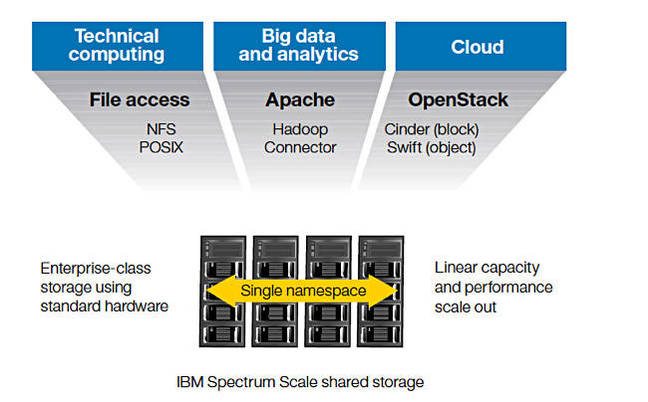 Spectrum Scale graphic
It seems to El Reg that the IF150 is a prime 3D flash upgrade candidate and we should/could see a 1PB capacity or greater in a few months time. IBM talks of the DeepFlash 150 being "a petabyte-scale all-flash array combined with IBM Spectrum Scale for Exabyte-scale big data workloads." Any use of 3D flash should lead to higher-capacity component cards: think 16 and 24TB, and a lower per-GB cost.
With WDC now having access to SanDisk/Toshiba flash fab output the old bugbear of proprietary flash cards taking longer to adopt new technology than commodity SSDs should be weakened. The roll call of proprietary flash card users includes IBM/WDC/SanDisk, EMC's DSSD, Pure Storage and Violin Memory.
WDC will be well pleased to have Big Blue's channel punting the DeepFlash 150 box, especially with Pure Storage's FlashBlade system helping to educate customers about the need for such systems. WDC's other system partners for the Infiniflash box, meaning CloudBytes, Nexenta and Tegile, will be able to point to Big Blue's validation of the hardware and hopefully reap sales benefits from that.
A 512TB DeepFlash 150 with Spectrum Scale could cost around a million dollars, with half a million of that being for the software alone. That should give Nexenta, Tegile and any other software suppliers a lot of pricing headroom for their own IF150-based products.
Get an IBM DeepFlash 150 datasheet here and solution brief here. ®
* Certain storage vendors would have you believe that they coined the backronym JBOF. But no, it was our own Chris Mellor, while writing about Sun's flash efforts back in 2008, in an article titled: "This SSD thing is really catching on".