This article is more than 1 year old
'The box' Bones uses to fix any ailment on the Enterprise? Yup, it's real
Yeast factory bests cumbersome labs and slow supply chains
Researchers at MIT's electronics division have developed a small mobile medical laboratory that could help bring vaccines to remote impoverished areas, battlefields, and space.
The reactor is a shoebox-sized biopharmaceutical station that could drop the cost of producing vaccines and diabetes treatments, delivering treatments from scratch within less than a day.
Researchers say the DARPA-funded technology could be placed inside ambulances for on-demand drug production, avoiding the need to rely on large centralised fermentation plants which produce treatments that are expensive and difficult to ship to remote areas.
The work is published in Nature Communications demonstrating how a droplet of yeast cells is enough to be turned into a suitable treatment using the medical lab.
Cells are contained in a tiny bioreactor where chemical triggers are fed in until something useful starts to brew.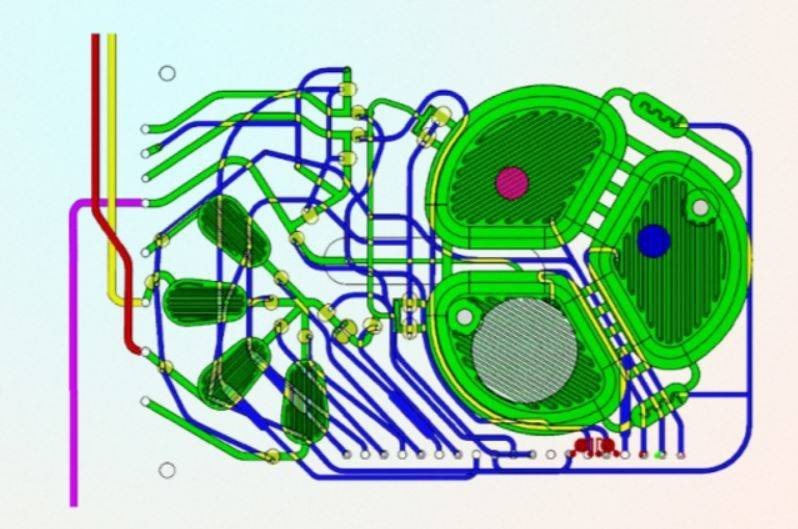 The principal component of the drug factory is a plastic chip with microfluidic circuits (green), optical sensors (red and blue circles) for monitoring oxygen and acidity, and a filter to retain the cells while the therapeutic protein is extracted (white circle). Image supplied.
Yeast strain Pichia pastoris will express different chemicals, including recombinant human growth hormone and the protein interferon, when various chemical triggers are applied.
It can be rinsed and reused when different drugs are required.
MIT Research Laboratory of Electronics head and author Tim Lu says the work could be used to treat diease outbreaks regions as remote as space.
"Imagine you were on Mars or in a remote desert, without access to a full formulary, you could program the yeast to produce drugs on demand locally," Lu says.
"We altered the yeast so it could be more easily genetically modified, and could include more than one therapeutic in its repertoire."
Oxygen can flow through the cells and carbon dioxide extracted through a single gas-permeable membrane in the reactor otherwise built from solid polycarbonate.
It is the first successful attempt to make a reusable drug lab that preserves the yeast cells allowing continuous and effective treatment in remote areas.
The research team of Pablo Perez-Pinera; Ningren Han; Sara Cleto; Jicong Cao; Oliver Purcell; Kartik A. Shah; Kevin Lee; Rajeev Ram, and Timothy K. Lu are now working to apply the reactor in combination with treatments that require antibodies, a feat that could slash the cost of expensive therapeutics.
"But if you could engineer a single strain, or maybe even a consortia of strains that grow together, to manufacture combinations of biologics or antibodies, that could be a very powerful way of producing these drugs at a reasonable cost," Lu says. ®