Chinese smartphone manufacturer Gionee has released a device with a dedicated encryption chip it calls "equivalent to a black box" that offers the "most advanced" mobile data protection to date.
Experts we asked were sceptical about the claims, which at minimum show that improved security is becoming a differentiator in the increasingly competitive higher-end Android smartphone marketplace.
The firm says the encryption chip that comes with the Gionee M6/M6 Plus provides on-chip data encryption. "With this encryption chip, users get a dual protection of their data, as it not only can't be seen if the user chooses to hide it, but even if the Android system gets hacked, the data can be accessed but not seen, as everything is encrypted," Gionee explains.
The smartphone also features technology designed to securely protects contacts, messages, call records, images, documents, and applications, dubbed Private Vault 2.0.
Mobile security experts quizzed by El Reg said the claims needed clarifying. "Most phones have had hardware encryption for years, they prob[ably] mean hardware key store," one expert told us. "Encryption not equal to security, [it] depends how you use it."
Security is increasingly becoming a key differentiator for upper middle to high-end smartphone sellers. BlackBerry said its new Android Smartphone, the DTEK 50, Is the "world's most secure". The principals behind both Sirin Labs' high end Solarin and the Blackphone, from Silent Circle and Spanish firm Geeksphone, would doubtless contest the honour should push come to shove.
All three alternatives feature software and modified operating systems to protect users from malware and other hacker risks that bedevil vanilla Android smartphones.
Power play
Aside from improved security, Gionee says its M6 sports increased battery life (M6 Plus: 6020mAh; M6: 5000mAh). This means that the M6 offers up to 55hrs of continuous call time, 16.4hrs of video play time, and 794hrs of standby time. The smartphone features quick charging technology that minimises the possibility of overheating as well as the ability to use the M6/M6 Plus to charge other electronic devices.
The Gionee M6 has a 5.5-inch,1,920x1,080 resolution display and runs with a Helio P10 MT6755m 64-bit and 1.8GHz octa-core processor with 4GB RAM. The smartphone runs Amigo 3.5 (based on the Android 6.0 Marshmallow variant). It is outfitted with a 13MP rear shooter and 8MP front shooter (with single flashflight).
The Gionee M6 Plus has a 2.0GHz octa-core processor, bigger 6-inch display and a better 16MP rear camera but is otherwise similar. The Gionee M6 is priced from $404 while the Gionee M6 Plus retails for $449.
Quizzed by El Reg, a Gionee spokesman offered no extra information about the encryption chip beyond what was contained in a media kit, which claims the feature is "equivalent to a black box". He expressed no concern that the recently revealed sales troubles of the Blackphone might suggest that customers are not ready to pay extra for security.
"Gionee [sales] won't [be a] worry," he said. "as the M series is targeted at 'People who work in the government and people who do business'. It's already a huge success for its huge battery life. The additional encryption chip just adds more security [to] the value. Besides M6 [doesn't] even raise the price from the M5. So it should more successful than the M5."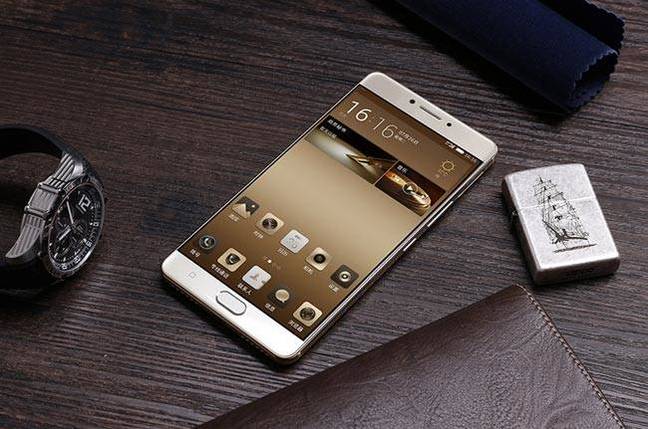 The M6 (source: Gionee)
Gionee Communication Equipment Co. Ltd was founded on September 2002. It ranks itself as one of the world's top 10 mobile manufacturers. ®
Similar topics