This article is more than 1 year old
Seagate scoops a revenue boost off back of its 8TB drives
Ray of light in declining disk drive market with no good flash sales news
Seagate has beaten its own preliminary fiscal 2016 fourth quarter estimate of $2.65bn revenues with a $2.7bn quarter. Still, this was 6.9 per cent less than a year ago, although 3.8 per cent up on the third quarter.
Profits were $70m, 49 per cent less than a year ago but a whole, thumping lot better than last quarter's $21m loss.
Chairman and CEO Steve Luczo put a brave face on it: "I am proud of our resilient operational performance and financial discipline through the dynamic technology shifts taking place in our industry."
Although rival and larger Western Digital has invested hundreds of millions of dollars in flash, buying a string of companies culminating in SanDisk with its Toshiba flash foundry partnership, Seagate has resolutely stayed focussed in disk drives, leading with a capacity drive emphasis, with a small SSD operation.
Luczo said: "I am confident of the Company's long-term sustainability and prosperity in a world of significant data creation and high-capacity storage demand driven by emerging technologies, and cloud infrastructure deployments. We believe we have the leading storage technology product portfolio, technology roadmap and operational leverage to ensure we are well-positioned for long-term success and shareholder value."
Seagate shipped 36.8 million disk drive units in the quarter, 6.1 per cent down from the prior quarter's 39.2 million, and 18.8 per cent less than the year-ago quarter's 45.3 million.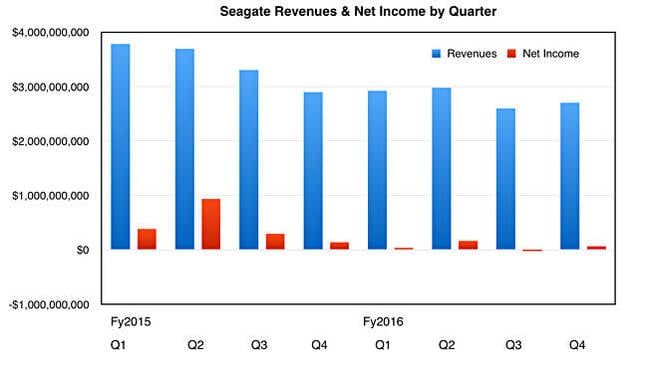 Full year revenues were $11.2bn, down by 18.2 per cent on fiscal 2015's $13.7bn, and Seagate's fourth straight year of declining revenues. Full year profits were $248m, 85.4 per cent less than a year ago.
This is mostly driven by the declining PC market, augmented by SSDs replacing performance disk drives and eating into notebook/PC disk sales. As a consequence Seagate is downsizing its manufacturing operations and headcount. Rival WDC is similarly affected.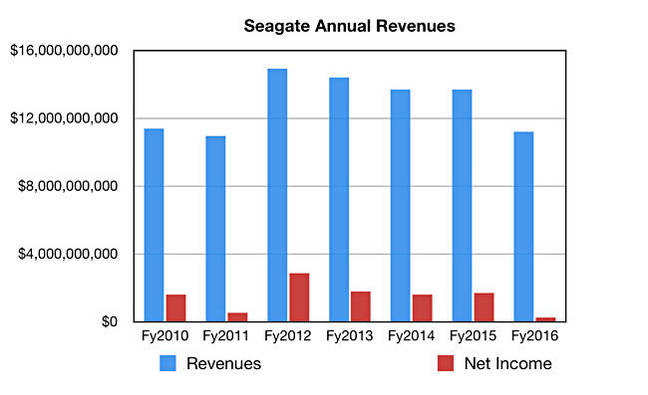 The segment splits show quarter on quarter rises for enterprise and consumer electronics drives and falls elsewhere, the largest for enterprise and notebook drives. However, within the enterprise segment, mission-critical (performance) drives had a q-on-q fall from 3.2 million to 3 million drives, while nearline (capacity) drives rose from 4.5 million to 5.5 million; reflecting its entry into the 8TB drive sector.

Quarterly disk drive units by segment. Click to embiggen.
Analyst haus Stifel Nicolaus' MD, Aaron Rakers, estimates Seagate "gained ~6pp of capacity ship share in the high-cap/nearline HDD market during the June quarter (~49 per cent ship share vs. WD's ~46 per cent ship share.)" He has previously said that Seagate has made a successful 8TB (nearline) disk drive segment entry this quarter which reduced WD's share of that market segment. WD does not expect to lose further share.
Rakers thinks Seagate had "a nearline HDD average capacity of ~4.5TBs/drive, up from 3.2TBs/drive and 2.4TBs/drive in the prior and year ago quarters."
Seagate earned revenues of $2.455m in the quarter from disk drives. Revenues from enterprise systems (ClusterStor and Dot Hill), flash products and everything else came to $199m, just 8.1 per cent of disk drive revenues. This figure was $224m in the previous quarter and $214m a year ago; not good. These were supposed to be growth businesses.
The company generated loads of cash in the year, as it reliably does, with approximately $1.7bn in operating cash flow and $727m paid out in cash dividends.
Its strategy is to manage the declining PC/notebook and performance disk drive markets and concentrate on the nearline, capacity drive market for enterprise, cloud and hyper-scale customers. It will be interesting to see if it tries to grow its enterprise systems disk array and flash-based businesses, or leaves them coasting along as they are. ®