Ink and Tablets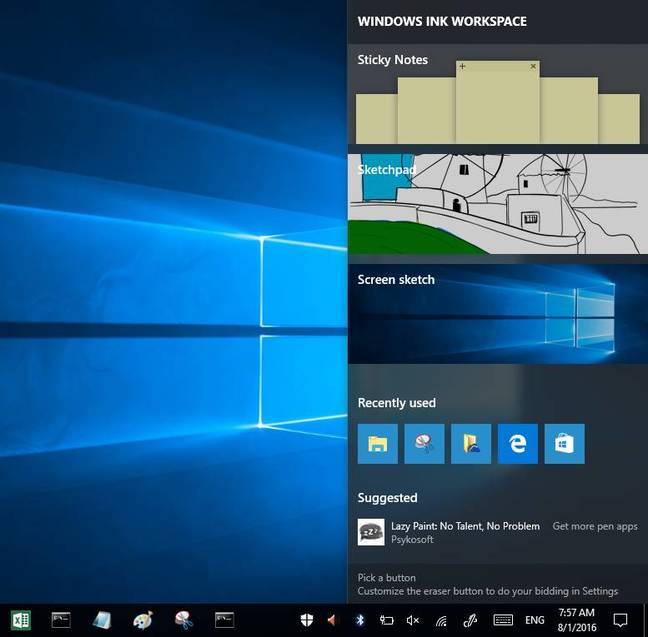 The Windows 10 Ink Workspace
Windows 8.x was optimized for tablets. Windows 10 is not; but Microsoft still supports tablets and has made a big business of the Surface range of hybrid PCs. Windows 10 Anniversary features a new Ink Workspace that brings together pen-focused applications in their own panel docked to the bottom right corner, and launched by tapping a button in the notification area or clicking the back of your pen. New built-in apps include Sketchpad, Screen sketch, for annotating the screen, and smart Sticky Notes that can set reminders and call phone numbers – though when I tried to call a number on my tablet with Windows 10 Anniversary tablet, it uselessly opened the Google Chrome browser for reasons that I have yet to uncover.
Still, Microsoft's smart Sticky Notes illustrate its ambitions for integrating Windows 10 with intelligent cloud services. Office 365 users should get a connected experience, where cloud-stored contact and calendar data magically enhances actions like scribbling notes. Whether and when this will work right is another question.
Pen support was already good in Windows 10, and is further enhanced in Anniversary, provided you have suitable hardware. The ink input panel works well. This is the best operating system for designers using pen, or for tablet users who like this kind of input and manage not to lose their pens.
The doubt here is how many users will appreciate Microsoft's pen efforts, which are irrelevant for most desktop PCs. Arguably, the Ink Workspace is also misconceived, since pen support should be seamless rather than split into its own area.
A common complaint about Windows 10 is that for tablets, Windows 8.x was more usable. Since Windows 10 makes the desktop primary again, that is perhaps unsurprising. Still, the Anniversary update improves matters a little. The taskbar can now be hidden if you want a full-screen experience, and the All Apps list is once again a full-screen view.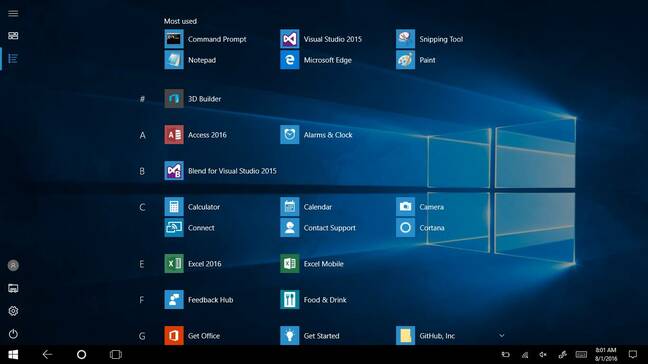 Windows 10 Tablet Mode has a full-screen All Apps Start menu
Unfortunately, Windows 10 Anniversary retains the idea of a Tablet Mode, which in practice is hard to use other than for short periods. One of the oddities is that unlike Windows 8, Tablet Mode disables the desktop view completely. In my experience, it is not long before you need to access the desktop or see floating Windows, even when using a PC as a tablet, and end up disabling the Tablet Mode. This then makes text input awkward, as the touch keyboard no longer pops up automatically. Anyone expecting iPad-like elegance from a Windows tablet will remain disappointed.
Similar topics